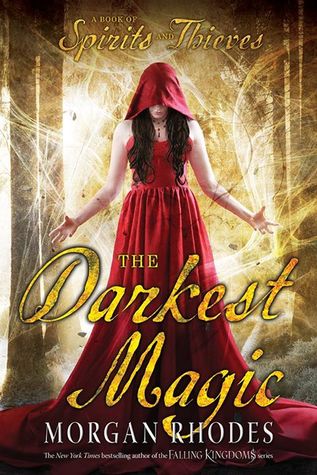 The Darkest Magic (Spirits and Thieves #2) by Morgan Rhodes
Published: June 28th 2016 by Razorbill
Genre: young adult, fantasy
Goodreads summary: In the second installment of New York Times bestselling author Morgan Rhodes's highly acclaimed Falling Kingdoms spin-off series, danger looms and the mystery deepens as two warring evils vie for possession of one elusive, powerful book.
Modern-day Toronto: Sisters Crystal and Becca Hatcher are reunited after reclaiming the Bronze Codex and narrowly escaping death. They have no one to trust but each other, and the only thing keeping them safe is the book that sent Becca's spirit to Ancient Mytica--the same book that their enemies would kill them for.
Ancient Mytica: Maddox grapples to keep his newly discovered powers under control, while the ruthless goddess Valoria hunts him down.
Modern-day Toronto: Farrell embraces his dark side as he unwittingly falls further under the spell of Markus, the mastermind leader of the nefarious Hawkspear Society, who will stop at nothing to find Crys and Becca--and the remarkable book in their possession.
New York Times bestselling author Morgan Rhodes takes readers into exhilarating new high-fantasy territory with volume two of the Book of Spirits and Thieves series, an epic contemporary saga perfect for fans of Sarah J. Maas and Diana Gabaldon's Outlander.
I'm a huge fan of the

Falling Kingdoms

series, so when the

Spirits and Thieves

trilogy was announced, I was pretty excited, as it's a prequel of the main series. While I really disliked the cover of the first book, they improved a lot with this one, it was pretty badass and I had serious girl power vibes from it.
When I started this book, I didn't remember very well what had happened in the first book, except the key plot points. Nevertheless, Morgan Rhodes did recaps along with the story, which helped me a lot, because I hadn't find any recap of A Book of Spirits and Thieves on the Internet. However, my issue was that it took a lot of time to get through every character's point of view, because they were four of them. At the beginning of the story, I felt like the plot was moving very slowly because of that, but it picked up quickly.
This trilogy is set a thousand years before the

Falling Kingdoms

series and it set so much in place for the Mytica I've come to know and love.

The Darkest Magic

indeed gave a bigger place to the two goddesses, Cleiona and Valoria, but also the Watchers, which is part of Mytica's mythology/series in the original series. Moreover, this instalment developed the magic even further, especially for Maddox and his death magic, but also for Becca, because of her parentage. What I love the most about the world Morgan Rhodes created is the fact Mytica is intertwined with modern-day Toronto, which involves secret societies. The author went even farther in that aspect, about how loyal you can be to someone and to a cause, which was really interesting and challenging for Farell's character.
I was really invested in most characters' storylines in this book and I came to appreciate some of them a bit more, just like Farell. I felt so much girl power in this book, for the Hatcher sisters, but also from the secondary characters like their families or the goddesses. Morgan Rhodes is also great at writing romances in my opinion and I'm way more invested in Farell/Crystal than in Maddox/Becca, because there is this hate becoming love relationship trope happening, which reminds me of Cleo and Magnus in Falling Kingdoms, who are my OTP.
The plot was very entertaining to follow and I can't even tell if it was more interesting in Mytica or in Toronto, which was a good thing. It was cruel to leave small cliff-hangers at the end of each chapter though, because how was I even supposed to go to sleep? This novel introduced a new antagonist, who was very scary and I wasn't expecting him to appear really, because I didn't remember any hints from this in the first book. The ending left my mouth hanging open and I just need the next book in the trilogy now.
Overall

, this book was everything I wanted, except that it took me awhile to get into it, as the chapters were pretty long and it followed four characters. Nevertheless, I was very invested in all the storylines and I cannot wait to read the last book in the trilogy, because it'll be explosive!
Other:
Have you read this book yet? What did you think of it? Are you a fan of the Falling Kingdoms series? Are you excited for Crystal Storm?