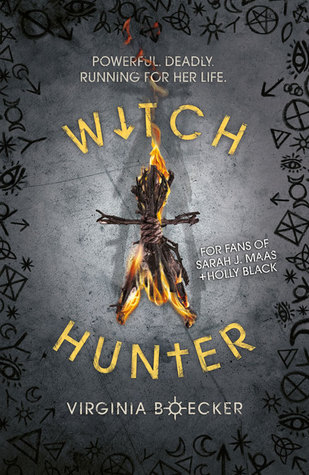 Witch Hunter (The Witch Hunter #1) by Virginia Boecker
Published:

September 1st 2015 by Hodder & Stoughton (first published

June 2nd by Little Brown Books for Young Readers)
Genre: young adult, fantasy, alternate history
Goodreads summary: The magic and suspense of Graceling meet the political intrigue and unrest of Game of Thrones in this riveting fantasy debut.
Your greatest enemy isn't what you fight, but what you fear.
Elizabeth Grey is one of the king's best witch hunters, devoted to rooting out witchcraft and doling out justice. But when she's accused of being a witch herself, Elizabeth is arrested and sentenced to burn at the stake.
Salvation comes from a man she thought was her enemy. Nicholas Perevil, the most powerful and dangerous wizard in the kingdom, offers her a deal: he will save her from execution if she can break the deadly curse that's been laid upon him.
But Nicholas and his followers know nothing of Elizabeth's witch hunting past--if they find out, the stake will be the least of her worries. And as she's thrust into the magical world of witches, ghosts, pirates, and one all-too-handsome healer, Elizabeth is forced to redefine her ideas of right and wrong, of friends and enemies, and of love and hate.
Virginia Boecker weaves a riveting tale of magic, betrayal, and sacrifice in this unforgettable fantasy debut.
To sum it up, I loved it. I read it in two days when I was in a reading slump and then I got a book hangover. I remember reading mixed reviews about this one, so I was hesitant to pick this up but it was

SO. GOOD.
WHY I LOVED THIS BOOK TO THE MOON AND BACK AND WANT THE WORLD TO READ IT
* It's alternate history set in a 16th England. Witches are supposed to be bad and everything and are burnt. Because of that, the world is a dark place and no one is safe. There was a plague started by wizards that killed half the country. Because there are wizards, there is an Inquisition (I've always wanted to write that kind of book so I'm happy)! So of course, there is an underground organization of wizards to fight against all the system (and they're called the Reformists so it's a TRUE alternate history).
* The main character, Elizabeth Grey, is a witch hunter (hence the title). As soon as the first chapter, we got to see her fight the wizards. She's strong and has a hard time trusting people. Because of the time period, even if she lived in the palace, she got through big issues and I liked that (well not really) because it was realistic. We didn't actually see what happened but it was there.
* The plot involves a curse that needs to be broken. It is a fast-paced plot, set in the dark for the most part, it was an enjoyable story to read about. The characters go to parties with supernatural beings.
* I was scared there would be a love triangle, because in the beginning of the novel, there was an overprotective best friend. But because of the choices Elizabeth made, the love triangle didn't exist.
* There is an untrustworthy ghost character! He was so funny and had a relationship with a living character. There are also characters like a seer-child.
There are also pirates and the characters travel by ship!
* I didn't see the plot twist coming. It's true that some things were weird but… I hadn't realised. That ending was kick-ass, selfless and a little creepy. Can I have the next book, please?
BUT IT STILL HAD SOME ISSUES
* I wanted a little more world-building. Like more on: why witches, more witch hunter-y scenes, etc.
* When I realized what the romance would be, I was a little disappointed because I didn't buy it? She just fell in love with the guy who saved her life, of course… Still, the author wrote swoony-worthy scenes with these two characters so it was okay.
Overall, I love that kind of books, with witches and alternate history and everything. It's been a while since I read one like that so my heart was pleased. I really enjoyed the main character who was tough and had hard choices to make. I didn't really like the romance, but I'm sure it will be better in the next book. Basically you need to read it and love it!
Have you read this book? What did you think of it? Have you read books like this one (I'd love some recommendations)?