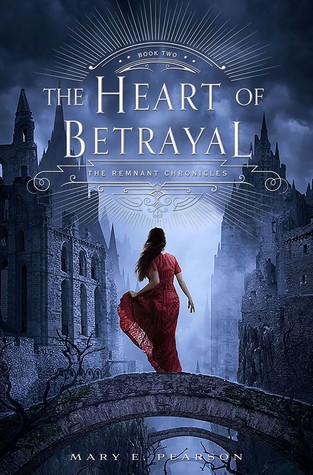 Title: The Heart of Betrayal (The Remnant Chronicles #2)
Author: Mary E. Pearson
Publisher: Henry Holt and Co. (BYR)
Release Date: July 7th 2015
Goodreads summary: Intrigue abounds in this hotly anticipated sequel to The Kiss of Deception!
Held captive in the barbarian kingdom of Venda, Lia and Rafe have little chance of escape. Desperate to save her life, Lia's erstwhile assassin, Kaden, has told the Vendan Komizar that she has the gift, and the Komizar's interest in Lia is greater than anyone could have foreseen.
Meanwhile, nothing is straightforward: there's Rafe, who lied to Lia, but has sacrificed his freedom to protect her; Kaden, who meant to assassinate her but has now saved her life; and the Vendans, whom Lia always believed to be barbarians. Now that she lives amongst them, however, she realizes that may be far from the truth. Wrestling with her upbringing, her gift, and her sense of self, Lia must make powerful choices that will affect her country... and her own destiny.
REVIEW
This book was better than the first book, but not by much. It took me a week to read this because I had work non-stop, which made me sad, but I still enjoyed my reading experience.
First, the setting was really interesting, I was eager to learn more about Venda and I wasn't disappointed, the costumes and history were well developed. I liked the language, for example when Lia responded to the Komizar, haha. Speaking of which, this government system is fascinating, and I can't wait to see how it turns out in the next book, because of this ending. I'm looking forward to see what impact the Song of Venda has on the next book, because I'm hooked. Maybe it's about Kaden and Lia? We'll see. Nevertheless, I'm still confused about the gift, it seems that Lia can foresee glimpses of the future, but I want to know more, it's not enough for now.
"Jezelia", she said, as if she had said my name a hundred times, as if she had known me from the time I was an infant and the priests lifted me up to the gods.
My eyes stung. "Did you name me?" I asked.
She shook her head. "The universe sang your name to me. I simply sang it back." She walked around the table until she was just an arm's length from me. "Every note hit me here," she said, and she put her fist to her breastbone.
"Did you sing the name to my mother?"
"You sang it to the wrong person. I'm not-"
"It is a way of trust, Jezelia. Do you trust the voice within you?"
It was as if she could read my thoughts. Why me?
She smiled. "It had to be someone. Why not you?"
"For a hundred good reasons. A thousand."
There was a lot of character development in this book, and I loved it so much. Several characters revealed themselves interesting: Calantha, Gwyneth, and oh, Kaden. I liked how we now know more about his past, and I hope we'll found out who his father is in the next book. As a main character, I really love Lia, the author shows us little weaknesses of her, like her fear of spiders, or how good she's in hiding her emotions, like when she was playing cards, acted as if she was losing, and had finally a perfect hand. Of course, she's a princess and thinks that a lot of people cares about what she does, because she represents a kingdom, but she also knows that her people have other things to do, because seriously.
I pictured those who would curse me-the cabinet, the Royal Guard, my mother and father. I closed my eyes trying to hold back tears. But certainly not my own brothers or Pauline. A sob jumped to my throat. […] With Pauline's image still looming in my thoughts, a more horrible worry overtook me-no one in Morrighan would be considering my traitorous act for long because they would either be on this side of hell scrabbling for roaches and rats to fill their bellies or they would be dead.
About the love triangle, I'm totally on team Rafe. Rafe always put Lia first, whereas Kaden always put his kingdom, which is understandable, but still.
He laughed mid-kiss and leaned back to look at me. "You were never a proper princess." His hands cradled my face, and his smile faded. "But you're everything I want. Remember that. I love you, Lia. Not a title. And not because a piece of paper says I should. Because I do."
Moreover, even if Kaden had a vision, Lia basically admitted that she cared about Kaden, but didn't love him. She also said that she loved Rafe at the end, even if her thoughts weren't clear.
Anyway, I can't wait to read the Beauty of Darkness, I love this title and can't wait to see the cover, because the first two were gorgeous.
Rating: 4.5/5