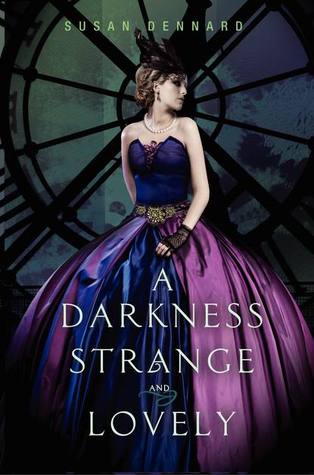 T
itle:
A Darkness Strange and Lovely (Something Strange and Deadly #2)
Author: Susan Dennard
Published: July 23rd 2013 by HarperTeen
Goodreads summary:
With her brother dead and her mother on the verge of insanity, Eleanor Fitt is utterly alone. Even the Spirit-Hunters - Joseph, Jie and the handsome, enigmatic Daniel - have fled to Paris. So when Eleanor begins to hear the vicious barking of hounds and see images of haunting yellow eyes, she fears the worst - that the Dead, and the necromancer Marcus, are coming for her.
To escape and search out the Spirit-Hunters, Eleanor boards a steamer bound for France. There she meets Oliver, a young man who claims to have known her brother. Though friendly, Oliver entices Eleanor with necromancy and black magic, yet as long as she can resist his powerful temptation, she'll be fine. But when she arrives in Paris, she finds that the Dead have taken over the city...and there's a whole new evil lurking. With the body count rising, Eleanor is forced to make a deadly decision that will go against everything the Spirit-Hunters stand for.
In Paris, there's a price for this darkness strange and lovely...and it may have Eleanor paying with her life.
REVIEW


This book had the same tropes that usual second books in trilogy, but it was done beautifully. I wasn't bored a single moment, because the author took us to other parts of the world, we didn't stay in Philadelphia. At the beginning of the book, Eleanor is truly a misfit (lol), she's all alone because her mother is an asylum, her friends turned on her, the Spirit-Hunters have left and of course, there is the matter of her hand.
Eleanor is forced to leave town when Marcus comes after her and sail on a boat to France, because the Spirit Hunters are now in Paris. There, she meets new friends like Laure and form new alliances with the mysterious Oliver, who knows a lot more about her brother than he let on. Moreover, Eleanor is hunted down by creatures of the underworld, the Hell Hounds. I loved that Eleanor was on the ship, because it's one of my favourite tropes in books. There was a scene of dream on the boat that was such like in Anastasia.
France was an amazing setting, because for once, I actually felt that the author did her research right. I live in Paris, so I get mad easily about French settings, haha. There was only one grammatical error in Susan Dennard's French: it's not "Le Cupidon Belle" but "Le Beau Cupidon". Anyways, the French was correct for the rest of the book, and there was a lot of research about Paris, because the author mentioned Haussmann. Moreover, other cities were mentioned, like Le Havre where Americans sailed, or Marseille, from where Laure came from.
This book was a moment of deceptions for Eleanor, because a lot of people she considered friends turned their back to her. The author explained a lot more of the necromancy, because of the plot. Demons were also introduced, I really enjoyed that aspect. However, I had figured out who the bad guy was really early in the book. I noticed that the author doesn't flinch when she has to wound a beloved character.
I enjoyed this book slightly less than the first one, but it was already SO GOOD. The next one seems full of promises; I'm really looking forward to it.
Have you read this book? What did you think of it?