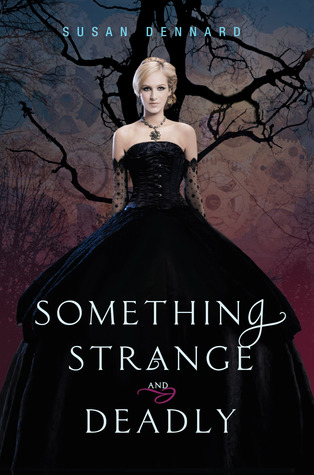 Title: Something Strange and Deadly (Something Strange and Deadly #1)
Author: Susan Dennard
Published: July 24th 2012 by HarperTeen
Goodreads summary:
Philadelphia 1876. The Dead are rising. A zombie delivers a letter to Eleanor Fitt. Whoever controls the Dead Army has her brother. She avoids her mother's choice of husband for the lab of Spirit Hunters, including the maddeningly stubborn yet handsome Daniel. The situation threatens her reputation, and the lives of everyone in the city.
REVIEW
I was hesitant to dive into this book because ZOMBIES. Honestly, I'm a total chicken that doesn't like to venture outside her comfort zone, but it was 19th century, so I literally had to give it a try. Actually, this book has become one of my favourites, I feel guilty for not having read it sooner.
This book is set in 1876 during the International Exhibition of Philadelphia. Actually, I had no idea there was one in Philadelphia at that time, but I'm such a history nerd I want to know more about it now. I saw a YouTube video where Susan said she read documents from that period to immerse herself into it and honestly it worked so well. I could feel like I was there. Moreover, it wasn't exactly easy for Eleanor to sneak away, which doesn't appear in a lot of novels set in this time period, it's something I really enjoyed, because it felt more realistic. I think the author really understood the social conventions of this time period and reproduced them well. I don't know about you, but I had never read a book set in Philadelphia, I thought it was very original.
The zombies are never called zombies; they are referred to as "the Dead" or "the Hungry", depending the time of creature. I enjoyed these paranormal creatures because they are raised by necromancers, which is pretty cool. Apparently, necromancy runs in the blood. The voodoo was also mentioned; in fact I pictured Joseph as Dr Facilier from the Princess and the Frog, but a lot nicer. Because of the Dead, it was a creepy read. It had a lighter tone in the beginning of the book but it became dark really soon.
I got friends on the other side ♪♫
The characters were well-written and diverse, for one part because Jie is Chinese and Joseph is Creole (so is Dr Facilier I'm sure), but also because of their social status: Eleanor was from the aristocracy, but it wasn't the case of the Spirit Hunters. Eleanor was really brave, because she was nothing special but still did everything to save her brother. However, she's very impulsive and makes stupid decisions because of that. She also loves food, so that's always enjoyable. Daniel was an interesting character, because he has a past as a criminal and he's an inventor. Jie was such a character I wasn't expecting, she is so brave and kick-ass. She's a bald Chinese girl who dresses like a man, because she doesn't want to be forced into other's ideas of the place of the women. Also, like she said, if she was dressed as a girl, she would have been put into a brothel. Joseph's accent was soooooooo realistic, I'm really happy with that!
I really enjoyed the plot; we were put straight into the action.
"Dead!" a woman screamed. "It's the Dead!"
That was the first sentence, which immediately held my attention; I was sucked right into the story because of it. Even if the plot was resolving a lot on the investigation, it also focused on the society, because Eleanor was part of it and attended to a lot of events. I guessed a part of the plot twist, but there were part of the ending I wasn't expecting, I was just gaping and had to read a sentence four times before processing it at some point.
Something Strange and Deadly was an engaging read I was unable to put down, I read late into the night and then all day, because I had to know how it would end. If you loved the Infernal Devices, this book is for you!