Top Ten Tuesday was created by The Broke and the Bookish. This week's topic is about Books on my Spring TBR. As you guys know from my reviews/wrap-up, I read a lot of new releases but... I feel like I don't read a lot of my backlist books. So this will be my backlist books Spring TBR. Like, it's about time.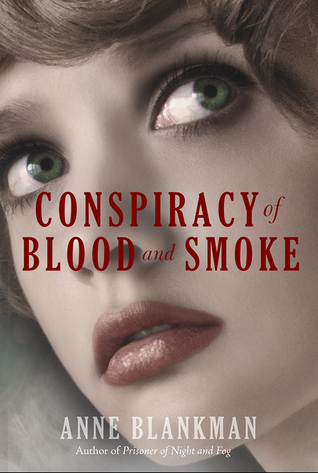 1. Conspiracy of Blood and Smoke by Anne Blankman
- I read Prisoner of Night and Fog at the beginning of the month and I loved it so much. I think I'm in the mood for historical fiction again, which is such great news. After what happened at the end of the first novel, I'm looking forward to read more about Gretchen. I have to say that despite my usual lack of interest for this time period, it was really interesting to learn about Hitler before he even became chancellor. It was so scary to read about his speeches on the Jews and how some people didn't really understand what he wanted to do. I'm grateful I picked it up, because the subject was important.
2. I am Alice by Joseph Delaney
- I actually have an excuse for this one. I'm reading it in French - they're like two years late with the translation and it's middle grade so I don't know what they're waiting for? - because I read it at the same pace than my boyfriend and my brother. So my brother's copy is waiting for me, on my shelf, at my parents' house. I'll get to it this week-end and it's Alice, so I'm excited!
3. Keeper of the Lost Cities by Shannon Messenger
- It's a middle grade series - apparently I have a lot of those on my TBR for some reason - I've heard amazing things about. I know little about the story, but I'd rather get into it this way. Moreover, I think the last book is coming out in the Fall, so I have four books to catch up on, I should start now since they're so long.
4. Grave Mercy by Robin LaFevers
- I'm ashamed I haven't read it yet, to be honest.
When I first joined Goodreads during summer 2013, everyone
was reading this book, so of course I
was interested! But for some reason I forgot about it, then sa
w negative revie
ws, but I sa
w positive revie
ws for it a fe
w months ago so I'm no
w interested again! It involves nuns assassins so it's unique and interesting. I already love the concept.
5. Incarnate by Jodi Meado
ws
- At first, I had no intention to read it. I had read negative revie
ws and since it
was an 'old' series, I didn't
want to bother. BUT. I read the Orphan Queen in December and loved it, then all the novellas about Tobiah and I love Jodi's
writing. I'd like to give this series a try because let's be real, The Mirror King is out next month, then My Lady Jane in June, but after that? She
won't publish another book until Fall 2017 -
which is logical - so I need to read something in the meantime. And it helps a lot that her books have the most beautiful covers EVERY. TIME. I still need to buy the first book though.
6. Scent of Magic by Maria V. Snyder - I mentioned in my January
wrap-up that I had never read a book by Maria V. Snyder and that I thought it
was time to catch up (finally). In February, I read Touch of Po
wer
with Geraldine and
we'll be reading this one at the end of the month. I'm excited, because I really enjoyed the first one. I can't
wait to get back into this
world and read more about everyone's adventures.
7. Taste of Darkness by Maria V. Snyder - I'm kinda cheating since it's the sequel, but I don't really care, it's my post, haha. It's the last book in the trilogy, so it's pretty obvious I'll continue
with it during the Spring time. I think I'll read it in April, since it's been a book a month so far
with this trilogy,

but
we'll see.
8. The School for Good and Evil by Soman Chainani - It's actually the next book I'm planning on reading. I sa
w quite some hype around this series, so I'm curious
what it's all about. It's about a magical school, so I should totally like it. Once again, it's a middle grade series, I'm trying to see if I still like middle grade I think, I really hope so. I'll feel like a
way too serious adult if I don't. *cries*
9. The False Prince by Jennifer A. Nielsen - Once again it's a middle grade series I've heard amazing things about. For some reason I
was confused at some point because I had to read a book about Panathenaia for a paper in October by a Jennifer Neils and I
was sure she
was called Jennifer Nielsen so I
was like: "
wo
w she's an historian and a
writer? So cool". But I
messed up
with names, my bad. Any
way, this one is a high fantasy so I'm 90% sure I'll like it. *fingers crossed*
10.
W
olf by
W
olf by Ryan Graudin
- I feel like everyone and their mothers read this book last Fall... But me *hides in a corner* No but seriously, I feel like I've seen every
where? But I didn't really
want to read it since it's an alternate history
where Hitler
won because it's so scary. If everyone says it's good, it should be good, so I'm doing it soon. I hope.
Are you excited for Spring?
Which books do you plan on reading? Have you read any of the books I mentioned?
What did you think of them?