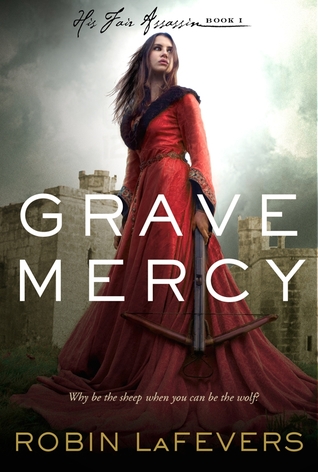 Grave Mercy (His Fair Assassin #1) by Robin LaFevers
Published: April 3rd 2012 by Houghton Mifflin Harcourt
Genre: young adult, historical, fantasy
Goodreads summary:
Why be the sheep, when you can be the wolf?

Seventeen-year-old Ismae escapes from the brutality of an arranged marriage into the sanctuary of the convent of St. Mortain, where the sisters still serve the gods of old. Here she learns that the god of Death Himself has blessed her with dangerous gifts—and a violent destiny. If she chooses to stay at the convent, she will be trained as an assassin and serve as a handmaiden to Death. To claim her new life, she must destroy the lives of others.

Ismae's most important assignment takes her straight into the high court of Brittany—where she finds herself woefully under prepared—not only for the deadly games of intrigue and treason, but for the impossible choices she must make. For how can she deliver Death's vengeance upon a target who, against her will, has stolen her heart?
REVIEW
I've been hesitant for such a long time to read this series, you have no idea. I first heard about it in 2013, when I started watching BookTube and joined Goodreads. I was pretty excited about it, then saw a couple of negative reviews and gave up on it. Finally, after seeing people reading the series in my Goodreads feed in March, I decided to finally pick the first book up, which was a good decision, except from my sleeping time.
I didn't know a lot about this book, except it was about assassins nuns, serving a god of death, Mortain. I had no idea it was set in Brittany in the late 15th century, which meant centring around the future duchess Anne of Brittany. I was surprised at how accurate the history part was - I studied it two years ago - which I immensely enjoyed. I loved the concept of Saint Mortain's convent, that he was an ancient god of Brittany, it was pretty interesting. Even though Ismae had been raised to follow the convent, I enjoyed that during the novel, she questioned her assignments and chose her own paths.
I have to admit the pacing was pretty slow, but I didn't mind that much because it meant fully immersing myself into the story. It focused a lot on court politics and it's true that I would have liked more action, since Ismae was an assassin. It was also a mystery, because Ismae was looking for a traitor at Anne's side.
Ismae was a great character, I liked having her backstory at the beginning of the book, because I could fully understand her and her evolution during the first chapters. Moreover, when she was in the convent, she worked a lot on poisons, which I found weirdly fascinating. The secondary characters didn't get a lot of screen time, but I found them realistic and relevant to the story, because Ismae and Duval couldn't do everything just together. The romance was built-up nicely, it was a total game of cat and mouse since the whole court believed Ismae was Duval's mistress. The author managed to write a believable tension and I was just waiting for the characters to finally do something about it.
The ending was pretty fast-paced, I couldn't stop reading and got to bed pretty late. However, when Ismae thought she had figured out the traitor, it was still early in the book, in my opinion, no one believed her and I was so sure there would be a final plot twist… But sadly no, so the revelation wasn't as shocking, since the main character suspected it but had no clues. This series will be centred around a different girl each time, the author introduced the two others during Grave Mercy and we got enough glimpses on their lives to make me interested in reading their stories.
Overall, this book had a compelling and accurate setting which I'm craving, I'll definitely read Dark Triumph next month. The premise was so interesting, I liked the idea of the convent. The characters were enjoyable to read about and I was so excited for the main ones to get together. Yes, the plot was a bit slow-paced and I wanted more murders, but I love

d the investigation and the politics in this book. The ending got me reading way too late into the night, but I didn't regret it at all.
Have you read this book?

What did you think of it? If you've read the
whole series,
which girl
was your favourite?
Which book?