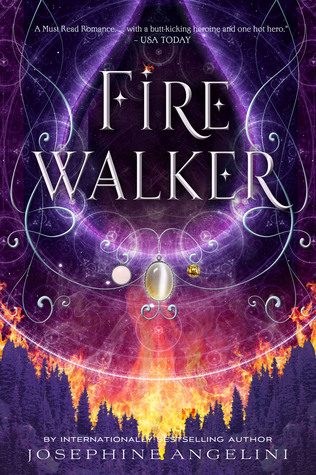 Title: Firewalker (The Worldwalker Trilogy #2)
Author: Josephine Angelini
Published: September 1st 2015 by Feiwel and Friends
Goodreads summary:
Worlds divide, magic slays, and love lies in the second book of Josephine Angelini's The Worldwalker Trilogy.
"You think I'm a monster, but my choices, as ruthless as they seem, are justified."
Lily is back in her own universe, and she's ready to start a new life with Rowan by her side. True, she almost died in the Pyre that fueled their escape from New Salem, and must hide her magic for the safety of everyone she cares about, but compared to fighting the Woven, the monstrous creatures inhabiting the alternate Salem, life is looking pretty good.
Unfortunately, Lillian, ruthless ruler of the 13 Cities, is not willing to let Lily go that easily. If she can't persuade Lily to return to her world, she will force her to come back by doing away with the ones she loves.
Picking up right where Trial By Fire left off, Firewalker is another sexy, fast-paced, heartbreaking thrill ride from internationally bestselling author Josephine Angelini!
REVIEW
Firewalker starts right where Trial by Fire left off, it put me back up in the story right away (I read Trial by Fire in August, so it wasn't a problem at all). Lily and Rowan are back in her world, where she first has to heal and then face the consequences for leaving during three months. Because obvisouly, if you go missing for three months, the police is investigating, the FBI is involved in that case, which is tough for Lily, but also Tristan who was suspected for months. It made sense that Lily had a hard time going back to school after all these events, it brought a slower pace to the book but it wasn't a bad thing.
With Lily's return in her world, we saw characters we had in the first book, who became closer to her and really important for the turn on events. Because soon, Lily's life is threatened again, she has to make her own covent and go back to Rowan's world.
At the same time, Lillian shows us her memories to explain Lily why she did what she did in her world. I really enjoyed knowing more of Lillian's motives, Lily understood and respected it, even if she is trying to do it her way. Loyalties are soon questionned, especially between Lily and Rowan, because Alaric's motives are explained and aren't that benefic to this world.
The world of the Thirteen cities was expended, I enjoyed learning more about the Woven and the Hive. I'm looking forward to see what these discoveries will bring to the next book, which I need as soon as possible.
Just like with the previous book, I had a hard time processing everything that was happening, because there are a lot of information, switch of points of view and memories of other people in one chapter... Toward the middle of the book, I got a little confused, but it was better at the end.
I wasn't really happy with Rowan and Lily's relationship in this book, because it was obvious they lacked communication and it would explode in their faces... I didn't agree with the choice one of them did, I hope this person will make up for it in the next book, but I have high hopes. My favourite relationship was Lily and Juliet's, in both world actually, they love each other so much it makes me want to cry.
I felt like a lot of things were revealed in the last pages, it is a lot to process. I'm a little sad with that ending, because a part of it was too easy, but at the same time, there is a revelation about this world that makes me think and eager to know what will happen next (yeah, it's cryptic I know!).
Have you read this book or Trial by Fire? What did you think of it?