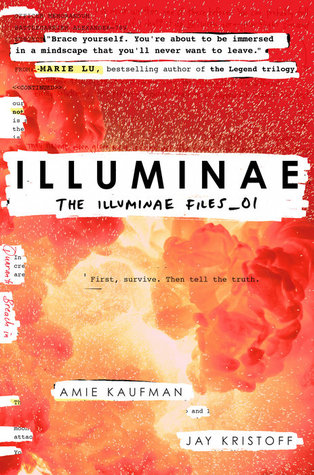 Illuminae (The Illuminae Files #1) by Amie Kaufman and Jay Kristoff
Published:
October 20th 2015 by Knopf Books for Young Readers
Genre: Young adult, Science-fiction
Goodreads summary:
This morning, Kady thought breaking up with Ezra was the hardest thing she'd have to do.
This afternoon, her planet was invaded.
The year is 2575, and two rival megacorporations are at war over a planet that's little more than an ice-covered speck at the edge of the universe. Too bad nobody thought to warn the people living on it. With enemy fire raining down on them, Kady and Ezra—who are barely even talking to each other—are forced to fight their way onto an evacuating fleet, with an enemy warship in hot pursuit.
But their problems are just getting started. A deadly plague has broken out and is mutating, with terrifying results; the fleet's AI, which should be protecting them, may actually be their enemy; and nobody in charge will say what's really going on. As Kady hacks into a tangled web of data to find the truth, it's clear only one person can help her bring it all to light: the ex-boyfriend she swore she'd never speak to again.
Told through a fascinating dossier of hacked documents—including emails, schematics, military files, IMs, medical reports, interviews, and more—Illuminae is the first book in a heart-stopping, high-octane trilogy about lives interrupted, the price of truth, and the courage of everyday heroes.
REVIEW
Illuminae is so hyped up that I was really scared to get into it. I thought I would be the black sheep, you know? So basically, I've postponed reading it for months, but I finally did. And wow, it totally deserved the hype. I really, really, really need the second book now. I've never been as crazy about a sci-fi book that I am right now. I loved it so much!
As you probably now, the format of this book is pretty unique, because it's told through messages, graphics, pictures and camera transcriptions. To be honest, it took me 100 pages or so to get used to it… It basically gave me an headache. I'm sorry, but I'm not used to typos because English isn't my main language, so it took some time to get used to. The camera transcripts were the least fun, and it could be the only times I got "bored". Moreover, this book had so much of swearing. Like, at least every two sentences. But it was blanked and each time, my brain was like "biiiiiiiip". That was fun. But anyway, once I got used to the format, I loved it. I was pretty unique and made the book such a unique experience.
I loved the characters. We mostly saw them through their messages and I got attached to them real fast, which I wasn't expecting at all. They had to go through so much drama, like EVERYONE DIES, a creepy disease and an insane artificial intelligence. Kady and Ezra were so sassy and brave, even if they were scared. Kady was an amazing hacker and Ezra was conscripted as a pilot, which was so cool. I was basically yelling at them to get back together… Even if they weren't on the same ship. But it's just a detail. AIDAN, the artificial intelligence, was so much fun to read about. We got a lot of scenes from his point of view and wow. Basically, he got crazy and started developing feelings? And killed a lot of people? But it was really interesting to see him develop feelings while his systems were like "ERROR. ERROR.".
Am I not merciful? (AIDAN)
It was so action-packed, I never got a chance to breathe or be bored, which was amazing. The Alexander and the Hypathia were running away from a ship, the Lincoln, which wanted to destroy them so it was pretty worrying. There were also the Phobos, a creepy disease where people kind of became zombies. Like when they were running after Kady "Little birdie", it was insanely scary.
There couldn't be a lot of world-building, because it was told through transcripts so I was a little confused at the beginning. But the more you get through the book, the more you learnt about what was going on, but I would have liked more? Even though I understand why not. It makes sense they weren't going to explain when they were trying to survive and the story was just an enormous file.
The ending was crazy because it felt like everyone I mean the people that were still alive was going to die. My heart was pounding so hard, because I was really scared for the characters. Some twists surprised me and left me craving for more. Also, it totally felt like Amie Kaufman was one of the co-author, because some aspects reminded me so much of the Starbound trilogy, which was so great <3
Overall, this book is a total must-read. If you're not a big fan of sci-fi, I think it would be a great place to start. This book makes me want to read so much more sci-fi set in space. The format was unique and took some time to get used to, but I got really attached to the characters and it made the story so gripping. It took me three days to get through this book, but basically I got used to it on the first day, then devoured it until I felt asleep on the second day, then finished the rest the morning of the third.
Have you read Illuminae? What did you think of it? Do you think there is too much hype around it? Do you have recommendations for similar books? Are you excited for the cover reveal of Gemina tomorrow (Monday)?