As you all know, it's supposed to be summer now, but the weather is so bad in France, it feels like November most days… *sigh* But because the weather is supposed to be warmer, I found myself to be in a contemporary mood lately, which I'm really happy about, as it's been a while. I discovered a new author, Emery Lord, whom I was following on Twitter (if you're not, you should, she's hilarious) and it was time to catch up on the three novels she already wrote. She's now one of my favourite contemporary authors and I will read anything she writes. So now, I shall try to convince you to read all of her books.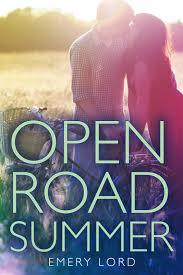 Open Road Summer by Emery Lord
Published: April 15th 2014 by Walker Children
Genre: young adult, contemporary, romance
Goodreads summary:
After breaking up with her bad-news boyfriend, Reagan O'Neill is ready to leave her rebellious ways behind. . . and her best friend, country superstar Lilah Montgomery, is nursing a broken heart of her own.
Fortunately, Lilah's 24-city tour is about to kick off, offering a perfect opportunity for a girls-only summer of break-up ballads and healing hearts. But when Matt Finch joins the tour as its opening act, his boy-next-door charm proves difficult for Reagan to resist, despite her vow to live a drama-free existence.
This summer, Reagan and Lilah will navigate the ups and downs of fame and friendship as they come to see that giving your heart to the right person is always a risk worth taking.
A fresh new voice in contemporary romance, Emery Lord's gorgeous writing hits all the right notes.
REVIEW
This first novel felt like Taylor Swift's story through the eyes of her best friend, if I had to sum it up in one sentence. I'm pretty sure it was the author's goal, because Dee was from Tennessee and sang country music. Lord depicted accurately the music business world and she even included Dee's songs, which was a welcome bonus. For example, the title of the book is actually one of Dee's songs and it made so much sense, I loved it. Reagan also was passionate about photography and I loved hearing about it, since I'm not the best in this area (far from it, ha!).
Lord's characters felt pretty real, because they were flawed, especially Reagan, since she had family issues, had gone to jail, had problems with boys and used to drink/smoke. I know some readers didn't connect with her, but I found her to be truly human and I could believe she was real. Moreover, she went through a lot of character development during the book and her trust issues weren't as strong in the end, she started to open up to her stepmother for example. To balance Reagan, the author introduced Dee, the famous singer, who seemed to be the light to Reagan's darkness, but her life was so much more complicated than that. It was interesting seeing what happened between the stage and how it could affect someone's life, when we almost had the same age.
Yes, this book is a romance novel, but in my opinion, it focused so much more on the friendship between Reagan and Dee. At some point, Reagan even said that she didn't want to be the girl who ditches her best friend for a boy and it's pretty rare (I mean I've been this girl but I've understood my mistakes) in YA contemporary fiction. However, I feltthat the attraction between Matt and Reagan was pretty instantaneous, but I still liked the way Lord built their relationship. Moreover, we actually got to see them together a little, when most of the time, it ends on the main characters getting together, but I need the cuteness! I totally got it so my heart was so happy. Nevertheless, I didn't like all the drama at some point, it made me so frustrated because with some communication it could have been solved way sooner, but anyway. At least the ending made me hope for the characters.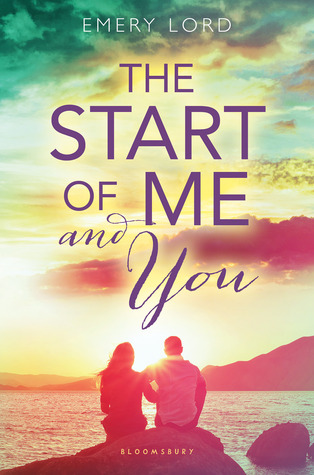 The Start of Me and You by Emery Lord
Published: March 31st 2015 by Bloomsbury
Genre: young adult, contemporary
Goodreads summary: It's been a year since it happened—when Paige Hancock's first boyfriend died in an accident. After shutting out the world for two years, Paige is finally ready for a second chance at high school . . . and she has a plan. First: Get her old crush, Ryan Chase, to date her—the perfect way to convince everyone she's back to normal. Next: Join a club—simple, it's high school after all. But when Ryan's sweet, nerdy cousin, Max, moves to town and recruits Paige for the Quiz Bowl team (of all things!) her perfect plan is thrown for a serious loop. Will Paige be able to face her fears and finally open herself up to the life she was meant to live?
REVIEW
When I finished this novel, I strongly felt like this is a contemporary book I would have liked to read when I was younger and I would recommend it to everyone, as it became one of my favourites. Even though this novel felt more typical in contemporary, with its high school setting, I felt like it stood out and I will think about it for a very long time. Also, can we talk about the Open Road Summer reference??? Someone mentioned Dee since she's a famous singer and I almost cried of happiness. It totally gets bonus points for that.
This novel followed Paige, who was still trying to get over the death of her first boyfriend, which was heart-wrenching. I liked that even though she was trying to live a 'normal' life again, she didn't want to be fixed, because she didn't have to, when it's sometimes the message. Her high school experience was realistic and she had parents who wanted to shield her and prevent her to go out all the time (gasp, those exist? #sarcasm). She had to deal with so many family troubles and I especially liked her relationship with her grandmother (who just one the first place on my 'favourite fictional grandparents' non-existent list). It had many family moments and showed that even when you're a teenager, family comes first.
Just like in Open Road Summer, Emery Lord excelled at writing friendships. Here, it was between four girls and then they formed new bonds and broaden their group, which I really liked seeing. It was just a squad goal case here, I loved it so much. These girls all had their storylines and I grew fond of all of them. I would also like to mention that one of them is in an abusive relationship and it was addressed wonderfully, which I was thankful for. Even if we want to be loved, we can't stay with someone who clearly doesn't deserve us, even if we don't want to be alone. It's a message a lot of teenagers should hear, truly.
Finally, I loved the romance, because it was a friendship before evolving to something else. It just made perfect sense for the characters to fall for each other, because they knew so much about each other and helped each other. It was just beautiful and an example of what a good friendship was, even though it evolved in a romance. They only got together at the end of the novel (like the title suggested) so I would love to see what happens next, because I grew fond of everyone and I just need more.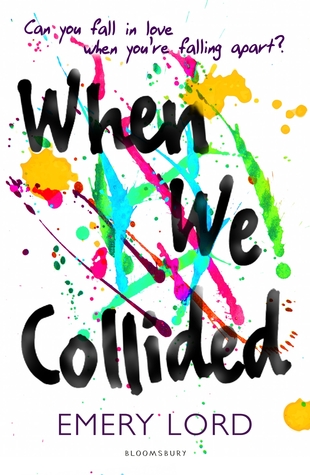 When We Collided by Emery Lord
Published: April 7th 2016 by Bloomsbury Children's
Genre: young adult, contemporary, mental health, romance
Goodreads summary:
Meet Vivi and Jonah: A girl and a boy whose love has the power save or destroy them.
Vivi and Jonah couldn't be more different. Vivi craves anything joyful or beautiful that life can offer. Jonah has been burdened by responsibility for his family ever since his father died. As summer begins, Jonah resigns himself to another season of getting by. Then Vivi arrives, and suddenly life seems brighter and better. Jonah is the perfect project for Vivi, and things finally feel right for Jonah. Their love is the answer to everything. But soon Vivi's zest for life falters, as her adventurousness becomes true danger-seeking. Jonah tries to keep her safe, but there's something important Vivi hasn't told him.
Perfect for fans of E. Lockhart and Jandy Nelson, When We Collided is a powerful story of two teens whose love is put to the test by forces beyond their control.
REVIEW
I was a little apprehensive when I started this one, because it dealt with mental illnesses and I had no idea how the author would handle it. I found it to be pretty realistic - even if I have no experience around bipolar disorder - and it wasn't about curing it. Yes, the characters were trying to find solutions, but to deal with it. Because of that aspect, When We Collided was pretty intense and I was totally invested into the story (I read it in one afternoon, so yessss).
The setting was perfect for a summer read. The book took place in Verona Cove, a small town in California where everyone knew each other. It made the book a little lighter, when most topics were so serious. I was definitely on a rollercoaster of emotions with this one, as I laughed, cried and fell in love with the Daniels family (but more on that in a second). I loved the ending of the book, even if it was more of an open-ending, which I don't really like most of the time. It wasn't about the characters getting their happy endings, but working to get their lives together and it felt so realistic, as it's a contemporary novel, so it was set in our world. I wouldn't say no to a sequel actually, because I would love to read about these characters again.
I actually liked Vivi, even if in real life, she would have been too much for my introvert self, but Jonah is definitely the character who won my heart. He was taking care of his brothers and sisters and worked at a restaurant. Big families is something I love to read about, and it was so funny to see that these six kids divided themselves between "the bigs" and "the littles", because that's how it is in my family. So basically, I related so much to Jonah and I loved it. He's just a precious cinnamon roll and I want everyone to love him. The romance started as instalove, so I wasn't a big fan of that, but I could understand why, you know? Both characters were at tough parts of their lives and they needed someone. Their relationship was so poisonous however… Also, this book wasn't about "love can win everything" and I enjoyed that aspect immensely, as it's way more complicated than that.
Have you read any of Emery Lord's books? Which one is your favourite? What's your favourite contemporary novel?