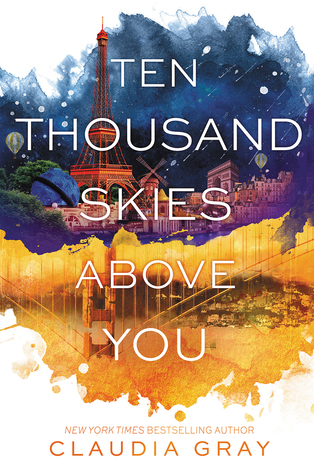 Title: Ten Thousand Skies Above You (Firebird #2)
Author: Claudia Gray
Published: November 3rd 2015 by HarperTeen
Goodreads summary: Ever since she used the Firebird, her parents' invention, to cross into alternate dimensions, Marguerite has caught the attention of enemies who will do anything to force her into helping them dominate the multiverse—even hurting the people she loves. She resists until her boyfriend, Paul, is attacked and his consciousness scattered across multiple dimensions.

Marguerite has no choice but to search for each splinter of Paul's soul. The hunt sends her racing through a war-torn San Francisco, the criminal underworld of New York City, and a glittering Paris where another Marguerite hides a shocking secret. Each world brings Marguerite one step closer to rescuing Paul. But with each trial she faces, she begins to question the destiny she thought they shared.

The second book in the Firebird trilogy, Ten Thousand Skies Above You features Claudia Gray's lush, romantic language and smart, exciting action, and will have readers clamoring for the next book.
Discovering new dimensions was as interesting as the first time around and the plot was original, because it revealed something else about the Firebirds. The novelty of discovering dimensions has faded a bit though, especially when Marguerite went to dimensions she discovered before.

However Marguerite pissed me off because when a Paul from another dimension did something bad, she doubted she could love her Paul. I understand that some Paul's decisions she couldn't agree with in some dimensions, but it didn't mean it was her Paul. She has a lot of trouble keeping up with identities, she already had this problemn because of Lieutenant Paul Markov in the Russia-verse, but it was worse this time around. The different Paul weren't the same and she also acted like that around Theo, because of what happenned in the first book. She doubted of her relationship with Paul because in some universes they weren't in love. Really? Ugh. She was like: um but if I don't love him in this universe, it's because we haven't met yet, right? Well no. She believed in the fate theory a little too much I believe?

However I loved that we learn how Triad was created and everything, I didn't expect it at all. And the ending OMG. This story took such a turn, I can't wait for the next one to be released.
Title:
Their Fractured Light (Unbound #3)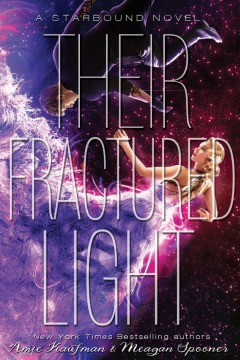 Author: Amie Kaufman and Meagan Spooner
Published: December 1st 2015 by Disney-Hyperion
Goodreads summary:
A year ago, Flynn Cormac and Jubilee Chase made the now infamous Avon Broadcast, calling on the galaxy to witness for their planet, and protect them from destruction. Some say Flynn's a madman, others whisper about conspiracies. Nobody knows the truth. A year before that, Tarver Merendsen and Lilac LaRoux were rescued from a terrible shipwreck—now, they live a public life in front of the cameras, and a secret life away from the world's gaze.
Now, in the center of the universe on the planet of Corinth, all four are about to collide with two new players, who will bring the fight against LaRoux Industries to a head. Gideon Marchant is an eighteen-year-old computer hacker—a whiz kid and an urban warrior. He'll climb, abseil and worm his way past the best security measures to pull off onsite hacks that others don't dare touch.
Sofia Quinn has a killer smile, and by the time you're done noticing it, she's got you offering up your wallet, your car, and anything else she desires. She holds LaRoux Industries responsible for the mysterious death of her father and is out for revenge at any cost.
When a LaRoux Industries security breach interrupts Gideon and Sofia's separate attempts to infiltrate their headquarters, they're forced to work together to escape. Each of them has their own reason for wanting to take down LaRoux Industries, and neither trusts the other. But working together might be the best chance they have to expose the secrets LRI is so desperate to hide.
REVIEW
It actually took me a week to finish this, because it was the last week of school *sigh*

I really enjoyed getting introduced to Gideon and Sofia, because they were both grey characters and I love that! They were both plotting to take down LaRoux but had a HARD time trusting each other because obviously they sometimes betrayed the other one. Like at the beginning when they met, it was so funny. Iloooooved their dynamics together and I shipped them so hard! But, I had a hard time reading the first 40% of the novel... I was kinda bored, idk. The other reason I was so confused/bored was that I didn't remember much of the first two books (only the big lines) so I didn't understand anything... I should have read a recap.... But then big step in their relationship/betrayal and I was hooked again!

I'm so happy the whole gang was back, the story was much interesting when they were there I think? Even if I loved Sofia and Gideon but... Sometimes I wondered what the beginning of the story had to do with the bigger picture? But after that it was so great, action-packed, plot twists and revelations and much plotting (which I love).

I really enjoyed the resolution of the story and how we didn't only got Sofia and Gideon's POV. It was weird and very mysterious but I liked it, in the end. I'm pleased with the ending.

Still I had a problem while reading but it's probably just me: at the beginning of each chapter, the name of the character wasn't written, so I was confused all the time, because I didn't always remember where I left off. But when I was looking at the index it had the name of the characters and the chapters numbers, so maybe my ereader just messed up.

Anyway, this trilogy is a total must read!
Have you read any of these books/series? What did you think of them?