Waiting on Wednesday is a weekly feature hosted by Jill from Breaking the Spine where I discuss the upcoming releases for the following Tuesday that I'm most excited for.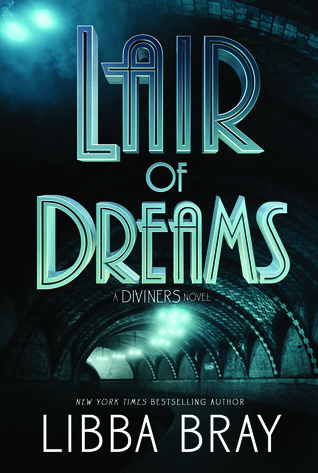 Title: Lair of Dreams (The Diviners #2)
Author: Libba Bray
Publisher: Little, Brown for Young Readers
Release date: August 25th 2015
Goodreads summary:
After a supernatural showdown with a serial killer, Evie O'Neill has outed herself as a Diviner. Now that the world knows of her ability to "read" objects, and therefore, read the past, she has become a media darling, earning the title, "America's Sweetheart Seer." But not everyone is so accepting of the Diviners' abilities...
Meanwhile, mysterious deaths have been turning up in the city, victims of an unknown sleeping sickness. Can the Diviners descend into the dreamworld and catch a killer?
I read The Diviners a few months ago, but I was eager to read the sequel, because it was such an amazing book, better than Gemma Doyle (even if I like it). The atmosphere was so compelling and creeps me out at times, because of Naught John. I like that this book is set in New York in the 1920s, years of glory for everything supernatural. I expect a lot from this book, I'm not gonna lie! I expect a good mystery as creepy as the last one, with great character development, because there is such an eclectic cast of characters. Moreover, this book was supposed to be released in May, so I want it now, I don't want to wait any longer.
Are you excited for this book? What books are you excited for this wednesday?
Let me know ;)