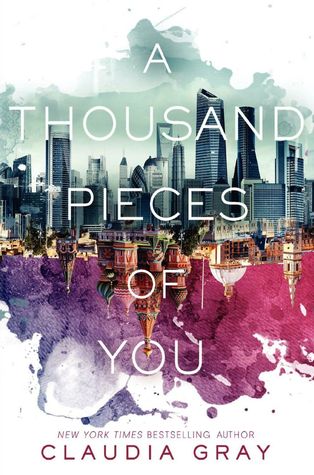 Title: A Thousand Pieces of You (Firebird #1)
Author: Claudia Gray
Published: November 4th 2014 by HarperTeen
Goodreads summary: Every Day meets Cloud Atlas in this heart-racing, space- and time-bending, epic new trilogy from New York Times bestselling author Claudia Gray.
Marguerite Caine's physicist parents are known for their radical scientific achievements. Their most astonishing invention: the Firebird, which allows users to jump into parallel universes, some vastly altered from our own. But when Marguerite's father is murdered, the killer—her parent's handsome and enigmatic assistant Paul—escapes into another dimension before the law can touch him.
Marguerite can't let the man who destroyed her family go free, and she races after Paul through different universes, where their lives entangle in increasingly familiar ways. With each encounter she begins to question Paul's guilt—and her own heart. Soon she discovers the truth behind her father's death is more sinister than she ever could have imagined.
A Thousand Pieces of You explores a reality where we witness the countless other lives we might lead in an amazingly intricate multiverse, and ask whether, amid infinite possibilities, one love can endure.
REVIEW
I was intrigued by this book because of the idea of this world and honestly, that's what made me fall in love with it. The idea of these parallel universes was really interesting, I enjoyed reading about every one of them, I was so excited every time Marguerite was going to a new one. About that, I found it realistic that because the characters were jumping into their other selves' bodies, they had hard times remembering who they really were and needed a "reminder".
I really enjoyed these characters, even if I would have loved to see a little more backstory. The dynamics between Marguerite's family was so cute. About the romance, Claudia Gray definitely knew how to make me feel everything. I was rooting for one love interest, then another… Yes, it was so well-written. I'm questioning one of Marguerite's decisions, though. But we'll see how it goes in the next books.
"I meant it when I said I didn't believe in love at first sight. It takes time to really, truly fall for someone. Yet I believe in a moment. A moment when you glimpse the truth within someone, and they glimpse the truth within you. In that moment, you don't belong to yourself any longer, not completely. Part of you belongs to him; part of him belongs to you. After that, you can't take it back, no matter how much you want to, no matter how hard you try."
The writing was very visual, I could easily picture the world, but maybe not as easily the characters. You can say Claudia Gray has experience in writing, because she totally knew how to handle that romance! I also have some memorable quotes, which doesn't happen with every book I read.
The plot was compelling and kept my interest during the whole book. The fact that we jumped straight into the action when Marguerite writes "Kill Paul Markov" on a wall for her other self hooked me. Changing universes made the action fast-paced, because the characters had to understand where they were, maybe find each other and then resolving everything.
I didn't really see the ending coming, I guessed the plot twists just seconds before the main character, so it was really well done! I enjoyed how connected everything was, even if the Firebird had just been invented in Marguerite's world. I'm looking forward to see what the second book has in store!
Have you read this book? What did you think of it?