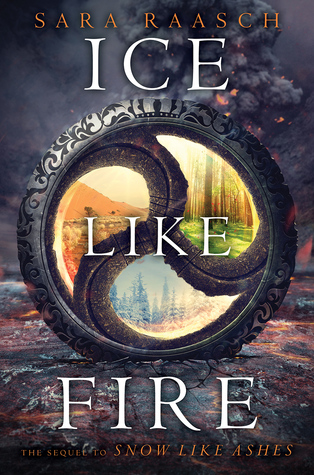 Title: Ice like Fire (Snow like Ashes #2)
Author: Sara Raasch
Published: October 13th 2015 by Balzer + Bray
Goodreads summary:
It's been three months since the Winterians were freed and Spring's king, Angra, disappeared—thanks largely to the help of Cordell.
Meira just wants her people to be safe. When Cordellan debt forces the Winterians to dig their mines for payment, they unearth something powerful and possibly dangerous: Primoria's lost chasm of magic. Theron sees this find as an opportunity—with this much magic, the world can finally stand against threats like Angra. But Meira fears the danger the chasm poses—the last time the world had access to so much magic, it spawned the Decay. So when the king of Cordell orders the two on a mission across the kingdoms of Primoria to discover the chasm's secrets, Meira plans to use the trip to garner support to keep the chasm shut and Winter safe—even if it means clashing with Theron. But can she do so without endangering the people she loves?
Mather just wants to be free. The horrors inflicted on the Winterians hang fresh and raw in Januari—leaving Winter vulnerable to Cordell's growing oppression. When Meira leaves to search for allies, he decides to take Winter's security into his own hands. Can he rebuild his broken kingdom and protect them from new threats?
As the web of power and deception weaves tighter, Theron fights for magic, Mather fights for freedom—and Meira starts to wonder if she should be fighting not just for Winter, but for the world.
REVIEW
This book felt like a transition to an epic finale, because it focused more on politics and securing alliances, but also finding how to open the magical chasm. The action picked up in the last third of the book or so, it was addictive and felt like everything happened at once, but it also felt it ended when the book started to be really interesting. Now, don't get me wrong, I still enjoyed it a great deal.
Ice like Fire starts three months after the end of Snow like Ashes, Winter's kingdom is under Cordell's domination, because Noam wants to discover the magical chasm. Of course, Winter's miners found it, but the characters realize they need keys to open it, and that they are in other kingdoms. It's the beginning of a diplomatic journey for Meira and Theron.
The world was largely expanded in this book, because we got to discover three kingdoms, very diverse. For Meira, it was the moment to find new friends but also enemies. At the same time, she struggles with herself to figure out who she is: the queen or the solider? She tries to find the answer while she observes – and judges – how the other kings and queens rule their kingdoms.
However, Theron seems to be more distant, because he has plan of his own. I have the feeling the author wanted us to change our minds for the love triangle, because a lot of fans were Team Theron. Because of this book, I know some of them are now Team Mather. It upsets me when authors are playing with us like that; it feels like I don't have a choice, because of course I liked Mather better than Theron in this book.
Mather's point of view was introduced in this book, in the beginning I felt like the author did it just to make us like him better. Of course, when Meira leaves for her diplomatic journey and that Mather has to stay in Winter; you can understand why the author introduced his point of view. He represented the rebellion in the middle of Cordellan domination; I really enjoyed his dynamics with the Children of Thaw.
Finding the keys seemed pretty easy, as Meira highlighted it, but there are a lot of things she will now have to face, because it was just the beginning. The ending was a twist for a part of it and made me really eager to have the next book in my hands, because so many things to process and so many things I want to know right now. I almost feel like the wait will kill me. The Order of Lustrate seems really interesting; I can't wait to see the part they will play in all of this.
Have you read this book? What did you think of it?