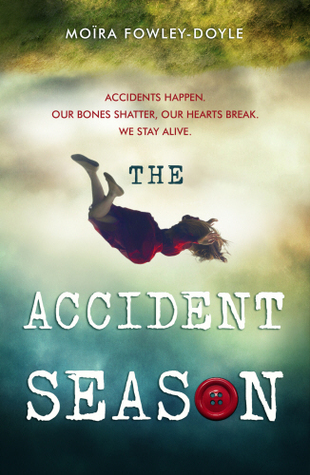 Title: The Accident Season
Author: Moira Fowley-Doyle
Published: August 18th 2015 by Corgi Children
Goodreads summary: It's the accident season, the same time every year. Bones break, skin tears, bruises bloom.
The accident season has been part of seventeen-year-old Cara's life for as long as she can remember. Towards the end of October, foreshadowed by the deaths of many relatives before them, Cara's family becomes inexplicably accident-prone. They banish knives to locked drawers, cover sharp table edges with padding, switch off electrical items - but injuries follow wherever they go, and the accident season becomes an ever-growing obsession and fear.
But why are they so cursed? And how can they break free?
So let's raise our glass to the accident season,
To the river beneath us where we sink our souls,
To the bruises and secrets, to the ghosts in the ceiling,


One more drink for the watery road.
This book was really addictive and I read it in one sitting, because once you're sucked into the mystery, you just want to keep reading to know what the ending will be. The writing was beautiful, blurred the lines between reality and magic, so that you kept asking yourself if what was going on was real or not.
I really enjoyed the plot of this book, because who doesn't love a good mystery? It was gripping and scary because of the scenery. This book is set in Ireland, with bridges that crumbled under your feet and a frozen river beneath it, but also a creepy abandoned house. I was on the edge of my sit, because I was expecting anything: the thing is, with this accident season, anything can happen, people even DIE. The twists blew my mind tbh, I know it's not everyone case, but just WOW.
Mrs. McCarthys turns to Bea. "Miss Kivlan," she says. "We are not in Hogwarts, we are in fifth-year French. So you can now lead the class in a chant about irregular verbs."
The characters didn't really stand out to me, but it didn't bother me that much, because they made me laugh so much. I liked that Bea was the kind of girls who read cards and all that jazz. Actually, the best thing about the characters wastheir dynamics, because three of them leaves in the same house, they're all like siblings. I enjoyed the romance, but I don't think it added anything to the story (even if I had feels).
Overall, I really enjoyed this book and was teary-eyed toward the end, because it was so moving when everything was revealed. At the same time, it was really cute. If you enjoy books about family, this one is definitely for you!
Have you read this book or are you interested? What did you think about it?