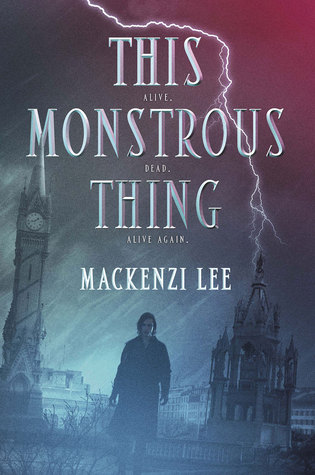 Title:
This Monstrous Thing
Author:
Mackenzi Lee
Published:
September 22nd 2015 by Katherine Tegen Books
Goodreads summary:
In 1818 Geneva, men built with clockwork parts live hidden away from society, cared for only by illegal mechanics called Shadow Boys. Two years ago, Shadow Boy Alasdair Finch's life shattered to bits.
His brother, Oliver—dead.

His sweetheart, Mary—gone.

His chance to break free of Geneva—lost.

Heart-broken and desperate, Alasdair does the unthinkable: He brings Oliver back from the dead.

But putting back together a broken life is more difficult than mending bones and adding clockwork pieces. Oliver returns more monster than man, and Alasdair's horror further damages the already troubled relationship.

Then comes the publication of Frankenstein and the city intensifies its search for Shadow Boys, aiming to discover the real life doctor and his monster. Alasdair finds refuge with his idol, the brilliant Dr. Geisler, who may offer him a way to escape the dangerous present and his guilt-ridden past, but at a horrible price only Oliver can pay…
REVIEW
I'll be honest; I've never read Frankenstein or a retelling of it, because it never really appealed me. However, we were in October, so Halloween's time, and I told myself I didn't want to be an idiot and never try a Frankenstein book. I was right, because this is one of the best books I've read this year, and it's a debut!
The historical setting was on point. It totally shows that Mackenzi Lee did her research, because I totally felt into 19th century Europe (Switzerland, the German confederation). The writing made it so much easier to picture everything. The society was pictured in a realistic way, for example I really enjoyed that the clockwork men were seen as ungodly and to be seen as less-than-nothing, because Switzerland was a very religious country (because of Calvin in the 16th century) and it was the mentalities at that time, even if it was starting to change. Moreover, the intellectual world was among those social aspects, I really enjoyed it, because I have a "19th century Europe intellectuals" class at uni this year, it was right my alley because I knew all these intellectuals.
I really enjoyed the steampunk aspect; it was interesting how it was all linked up to Frankenstein, because the clockwork men could totally identify themselves to the creature. This leads me to something that surprised me in a good way and was one of my favourite aspects of this book: the book itself, Frankenstein. I thought that because it was a retelling, there would be no mention of the book, but that's the contrary (that's because I didn't read the summary, tbh). Frankenstein is here inspired by the events of the book and plays a big part in the plot, for example the main character has to figure out who wrote it (even if I figured it out right away).
The characters were enjoyable, but not my favourite part of this story. However, one of the characters is gay; it was something I really enjoyed because being gay then was way more difficult than now. Moreover, this character was actually my favourite. Considering the romance, I liked that something could have happened but didn't, it was a nice change in a YA book. Indeed, two years before the story, the character in question would have dreamt of this relationship, but after all the events of the book… He didn't.
The ending was totally open, it was enough and I really enjoyed that the characters took different paths, even if they had lived a lot together. This book was enough as a standalone and I wouldn't want it to be a series, because it was great this way.
Have you read this book or do you plan to? What did you think of it?