I'm back for the last Grabby Hands post of the year! I can't believe I started to write these posts in January, it feels like forever ago, but at the same time, it means that the year is almost over, how is that even possible? This time, I decided to talk about the book I'm excited for the next two months, because I'm only anticipating two books in December, so it would have been ridiculous to have a post just for that. Anyway, let's get into it!
A Million Worlds With You
(Firebird #3) by Claudia Gray - I'm so excited to read this book, because it's the finale in a trilogy that I love so much. The world is so interesting, because it deals with parallel universes, science, but also history. After the ending of
Ten Thousand Skies Above You
(which was so cruel), I've been counting the days (or so) until I could read this one. Moreover, the covers are so gorgeous!
The Sun is Also A Star
by Nicola Yoon - Contemporary isn't a genre I read much of, but Nicola Yoon made a very good impression on me when I read
Everything, Everything
, last year. It was a cute novel but at the same time dealt with important topics and that's what I want in my contemporary novels. I think I might 100% relate to the characters in this one and I think it's set during a short period of time so it should be interesting.
Blood for Blood
(Wolf by Wolf #2) by Ryan Graudin - To be honest, I didn't think I would love
Wolf by Wolf
, because World War Two terrifies me and I avoid books set during that time period a lot, but also because I have zero interest of motorcycles. And yet,
Wolf by Wolf
was an amazing and original book, it took me completely by surprise! Ever since then, I've been anticipating the second book, because I need more Yael and Luka in my life (I haven't read the novella, btw).
Timekeeper
(Timekeeper #1) by Tara Sim - I need this book in my life. It's set in an alternate Victorian world with steampunk elements and deals with time. Actually, it makes me think so much of
Alice: Through the Looking Glass
and I love that movie! By now, you must do I'm obsessed with Victorian era (especially these days) and steampunk is my weakness. I've seen great reviews of this lately, so I'm even more pumped!
Heartless
by Marissa Meyer - As a matter of fact, I have already read this one in August because I won an ARC in a giveaway (the only one I ever one but it was the BEST), so I'm not really anticipating it, haha. But I just wanted to mention it because guys, you need to anticipate it. It's a Alice in Wonderland prequel about the Queen of Hearts and it involves
so much food
. Also, I cried at the end, because as we all know
Alice in Wonderland
, we know how the queen is! So yes, it's basically a villain origin story and you will need it. It is different from
The Lunar Chronicles
though, so be warned!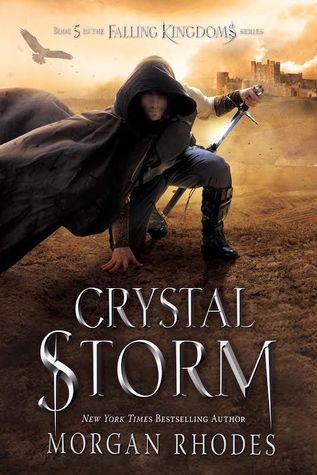 Crystal Storm
(Falling Kingdoms #5) by Morgan Rhodes -
I can't hear you over the sound of my OTP calling my name
.
Frozen Tides
was one of my favourite YA books I read this year, it ripped my heart out and made me happy at the same time, you know what I mean. I'm so emotionnally attached to this series, I can't. But, I have to say it's my least favourite cover (sorry, Magnus!). Anyway, I can't wait to have this in my hands but at the same time, it means I'll only have one book left before the series is ending. Nope. I refuse to accept that.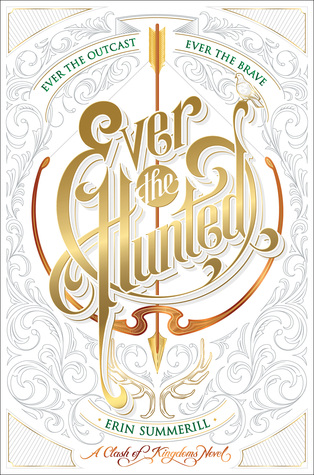 Ever the Hunted
(Clash of Kingdoms #1) by Erin Sumerill - Look, a high fantasy novel! Of course I'm anticipating this. To be honest, I had no idea what it was about, but I thought that if I had it on my TBR, I must have a reason, right? And oh my, it does look amazing. It's about the daughter of a bounty hunter that will need to hunt the boy she once loved to gain her freedom and avenge her father. This cover is also so gorgeous, I can't.