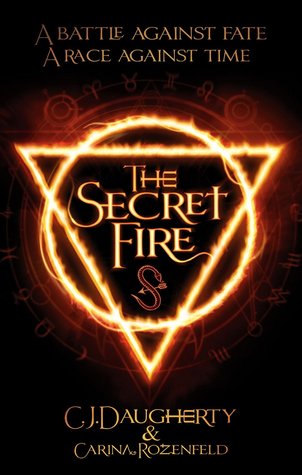 The Secret Fire (The Alchemist Chronicles #1) by C.J. Daugherty and Carina Rozenfeld
Genre: YA fantasy
Published: September 3rd 2015 by Atom
Goodreads summary:
French teen Sacha Winters can't die. He can throw himself off a roof, be stabbed, even shot, and he will always survive. Until the day when history and ancient enmities dictate that he must die. Worse still, his death will trigger something awful. Something deadly. And that day is closing in.
Taylor Montclair is a normal English girl, hanging out with her friends and studying for exams, until she starts shorting out the lights with her brain. She's also the only person on earth who can save Sacha.
There's only one problem: the two of them have never met. They live hundreds of miles apart and powerful forces will stop at nothing to keep them apart.
They have eight weeks to find each other. Will they survive long enough to save the world?
REVIEW
The reason I picked this book up is because it was co-written by an English and a French author. As a French reader who reads in English, I felt like it was definitely for me. I didn't have a lot of expectations, because I didn't hear a lot about this book, except for my fellow French readers.
For me, the best way to describe this book is "YA like it was done five years ago". By that, I don't mean all the tropes we come to hate, like love triangles, on the contrary! No, I'm saying that, because of the all "my family has a big secret that involves magic" type of book. First of all, we have Sacha, a boy who lives in Paris and can't die. That is, until his eighteenth birthday. I found this premise to be really intriguing. On the other hand, we have Taylor, the "perfect" English girl who only wants to go to Oxford. To be able to apply to Oxford, her French teacher asks her to tutor Sacha, and that's where it all begins. I found the way they were put in relation original, even if it was clear it served a purpose… People were doing everything so they could meet… While other people tried to prevent it.
The fact that from the start, the reader can't have the faintest idea what the magic is all about was amazing. It took some time to see Taylor's importance into the bigger picture, but I didn't really mind, even though I found this book a tad slow to really start. It actually led me to a dead end, because I had a theory on Taylor's "powers" and I got completely wrong, let me tell you. Because of that, I was so excited to devour the rest, since the authors gave clues, but didn't go the way I expected. I can't say much, because sadly it would be spoiler-y, but some creatures were also a little scary.
This book wasn't info-dump-y, because in the beginning, the characters were completely in the dark, just like the reader. They tried to figure out what was going on, and it gave us some pieces of the puzzle, but not everything. Even when the time came for the revelation, it was done nicely and not everything at the same time. The way magic worked was really well explained and it actually made sense, it's easy to believe it can exist in our world, tbh. However, at some point, demons got involved and curses, I'm not sure how that part works, but I'm sure I'll have more explanations in the next one.
Most of the time, when I read a dual POV book, I only like one of them. Here, I loved both characters equally and their POV felt like two faces of a same coin. It wasn't just about the points of view of two people who will end up together. Their destinies are tied up, for better or worse.
At first, I thought I liked Taylor better, because it was really easy to relate to her. She's the smart girl who only wants to go to Oxford and she has curly blonde hair, as wild as mine, so basically: yes. In the beginning of the novel, I thought she would be a typical main character, who doesn't know she's beautiful, blah blah blah, but in the end, she was so much more. Even though she was powerful, she actually struggled with her powers, I really enjoyed that, it was given to her straight away. Nevertheless, I found it a little unrealistic when she was able to go see Sacha without her mother noticing, because he basically leaves in another country! If I disappeared for an entire day to "a friend" when I was underage, my mom would have called the "friend" or their parents!
Sacha was harder to relate to, because he seemed like the "bad boy", who dropped school, has a motorcycle, is involved with gangs and loves to take bets. That aspect of his life totally threw me off guard, even if he had a reason. He had abandoned life, because he knew at some point, he would die. But, during the novel and thanks to Taylor, he seems to become himself once again, because he fought not to die. If he seemed to had accepted it at first, when he heard there could be a way, he fought. I really enjoyed that aspect of his character, because once he was decided, he refused to give up. His storyline was also really interesting, I can't decide which one I loved best!
I really enjoyed the romance. Even though it was very convenient for the characters to be put in relation straight away, there wasn't any insta-love. This romance is totally obvious, but it has a lot of built-up and hasn't happened yet. This is a nice change, because most of the time it happens at the end of the first book. Because of that, I'm really excited to see the characters together, and I hope we'll have some cute moments between the two of them in the next book. There is no love triangle in this book, I'm so relieved.
Of course, this story revolves around Taylor and Sacha, but there were some interesting secondary characters. In Sacha's life, we mainly saw his family and gangs, so it wasn't amazing. However, I loved reading about characters around Taylor, first her grandfather, who seemed so mysterious, and then Louisa, who must be one of my favourite characters of the novel, she had a rich backstory! The organization behind magic has a serious secret society vibe, so I can't wait to learn some more. Like Louisa said: "I'll have to teach you the secret handshake".
It didn't end on a cliff-hanger, it felt more like a new start to the quest of the characters. I'm wondering where these series is going and I'm so excited to read the next one.
Overall, this book was a very solid start to a new series. It featured interesting characters and world within our own. It had a even plot with as much action as needed. I especially enjoyed the romance since it was a slow-burn and hasn't happened yet, but I'm totally anticipating it.
Have you read this book yet? Did my more or less organized fangirling make you want to read it?