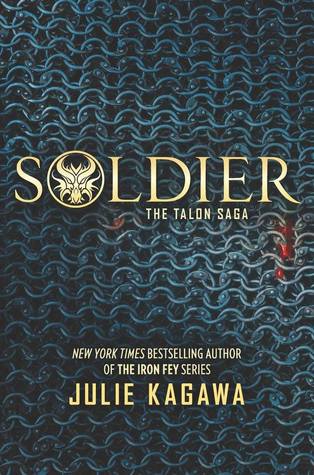 Soldier (Talon #3) by Julie Kagawa
Published: April 26th 2016 by Harlequin TEEN
Genre: young adult, fantasy
Goodreads summary: The price of freedom is everything.
When forced to choose between safety with the dragon organization Talon and being hunted forever as an outcast, Ember Hill chose to stand with Riley and his band of rogue dragons rather than become an assassin for Talon. She's lost any contact with her twin brother, Dante, a Talon devotee, as well as Garret, the former-enemy soldier who challenged her beliefs about her human side.
As Ember and Riley hide and regroup to fight another day, Garret journeys alone to the United Kingdom, birthplace of the ancient and secret Order of St. George, to spy on his former brothers and uncover deadly and shocking secrets that will shake the foundations of dragons and dragonslayers alike and place them all in imminent danger as Talon's new order rises.
REVIEW
I discovered Julie Kagawa last year and devoured seven of her books. By far, her Talon series is my favourite, and this third instalment definitely confirmed it. It is a long series, because there are still two books to be published, but in my opinion, it won't be too much. If you love dragons, you should definitely read it!
Soldier
picked up right after the ending of Rogue and the plot was totally addictive, I devoured the book in a few sittings when I got time. While Soldier was the middle book of the series, I didn't feel like it was a filler at all. At the beginning of the novel, Garret uncovers game-changing secrets and the rest of the book deals with the consequences of that. I liked to see everyone team up against their enemies and I cannot wait to see how they'll work together next. Soldier totally made the main plot progress and opened up new subplots.
However, I wanted more character development. Ember mentioned several times that she had changed with all she's been through, but I would have liked to see it more, she was still a whiny teenager (even though I like her). Riley was still the same character that in the first book, and I never really liked him, so we have a complicated relationship. Can another dragon burn him or something? I was satisfied with Garret's development though, because he just wanted justice and to show the truth, which is laudable.
This book still had four points of view, five if you count Garret's flashbacks and Kagawa managed to balance them perfectly. I'll admit that Dante's point of view wasn't the best, because it was far away from the action, but I found it to be totally useful, since he was our only way to know what was going on in Talon. What was happening there was totally dreadful, which was to be expected after the epilogue of Rogue. Moreover, it amuses me that we don't have much of his point of view, and then it ends on his with a big revelation.
What truly surprised me was that Kagawa managed to expand the world she created. Indeed, because Garret was uncovering truths about the Order, we saw more of the organization, but also flashbacks of how he came to be a soldier. Moreover, we learnt more about the dragons, with some unexpected aspects. Also, some of the revelations made my heart stop for a second.
I won't lie, this book totally contained a love triangle and it focused a lot on that aspect. In Kagawa's defence, it seemed realistic, because Ember was conflicted between her human side and her dragon side. However, I really don't like when authors pull the "we're meant to be together" trope, because I believe we choose who we love. Not the contrary. So yeah, I admit I was a little pissed at some point, but it'll wear off. I'm totally team Garret, since I love their chemistry so much more, and because sometimes, I feel life Riley wants to own Ember, which isn't a healthy relationship at all. But maybe it's just that I don't get their chemistry, who knows?
Soldier ended on a cliffhanger, which disappointed me a little, since it was already the case last time. Don't get me wrong, I loved the last chapters, they were action-packed, filled with tension and I couldn't stop reading. I think the book could have done with one more chapter, because the resolution to this cliff-hanger is a little obvious since it's YA fiction.
Overall
, it was a solid instalment in the Talon series and you should definitely read this series if you haven't given it a shot yet, because DRAGONS. I'm so happy that Kagawa didn't made a filler of this book, since it had an actual goal and helped move the stories. I would have liked more character development though, and to get read of this "we're meant to be" trope. But other than that, it was pretty good and I can't wait for Legion!
Other:
Have you read any of Julie Kagawa's novels? Which one is your favourite? Have you started the Talon series yet? Do you love books about dragons?