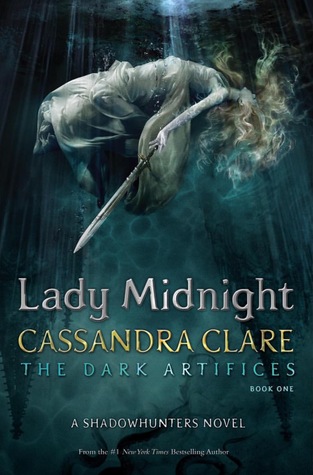 Lady Midnight (The Dark Artifices #1) by Cassandra Clare
Published: March 8th 2016 by Margaret K. McElderry Books
Genre: young adult, urban fantasy
Goodreads:
The Shadowhunters of Los Angeles star in the first novel in Cassandra Clare's newest series, The Dark Artifices, a sequel to the internationally bestselling Mortal Instruments series.
Lady Midnight
is a Shadowhunters novel.
It's been five years since the events of
City of Heavenly Fire
that brought the Shadowhunters to the brink of oblivion. Emma Carstairs is no longer a child in mourning, but a young woman bent on discovering what killed her parents a
nd avenging her losses.
Together with her parabatai Julian Blackthorn, Emma must learn to trust her head and her heart as she investigates a demonic plot that stretches across Los Angeles, from the Sunset Strip to the enchanted sea that pounds the beaches of Santa Monica. If only her heart didn't lead her in treacherous directions…
Making things even more complicated, Julian's brother Mark—who was captured by the faeries five years ago—has been returned as a bargaining chip. The faeries are desperate to find out who is murdering their kind—and they need the Shadowhunters' help to do it. But time works differently in faerie, so Mark has barely aged and doesn't recognize his family. Can he ever truly return to them? Will the faeries really allow it?
Glitz, glamours, and Shadowhunters abound in this heartrending opening to Cassandra Clare's Dark Artifices series.
I'm feeling very emotional about this book, and I'm typing this three days later. I wasn't completely sure I would love it as much as I did, because it's been three years since we got a Shadowhunter novel. I was thinking that maybe I had grew out of it, but fortunately, I didn't, which made me so happy, since it's because of those books I started reading in English.
First off, Cassandra Clare grew so much as a writer since City of Bones. I'm planning on re-reading it this year, but from what I remember, I don't think I'll enjoy it as much as I did this one. I remember that it took me a whole month to get through City of Lost Souls, because it was painfully slow... I was so done with that series because it was really long, but City of Heavenly Fire was truly amazing, so it made up for it! Anyways, I've been excited for this book for years and I just checked... I added it to my 'tbr' on Goodreads the day I joined the website. So yeah, I was dying for it and it was really worth it. It made me laugh, it made me cry and more importantly, it felt like home.
Because I already read nine books in this world, it was really easy to get into it. Nevertheless, Cassandra Clare still managed to add new elements into her world, like the Scholomance or the Shadow Market. I also really enjoyed that there was this "kind of a secret society", it was really mysterious and made me eager. I also really enjoyed that

we saw a little more faeries than in the other books, but I still crave more of them.
The strongest part of this novel were its characters. I remember that in The Mortal Instruments, the characters were annoying and made to be perfect... But here, it wasn't the case at all! If Clary and Jace were made to be amazing Shadowhunters in TMI, Emma and Julian worked so hard to be great Shadowhunters... Emma was actually so careless... It's a good thing she had Julian to watch her back! Emma was sassy and tough, I really enjoyed reading about her and she's blonde, it's the plus size for me, lmao. I thought that Julian changed a lot from usual male leads Clare wrote, he was so much more gentle and had a strong sense of family... But at the same time he could be ruthless. And he paints so yay! I had totally figured it out about his studio though, but it
was still really cute.
I really enjoyed reading about the Blackthorn's siblings, because since I got all excited three years ago, I knew their main characteristics and they felt so realistic. Especially Ty. I'm really emotional about him because... My little brother is a lot like him, so I could relate so much and I just wanted to cry. It was so funny that they all loved crime mystery and just wanted to solve it. And their dynamics
were great!
Cristina was a mystery I was trying to solve and I really liked her, she was another character to balance Emma's fire. I feel like Clare took a lot of time to craft realistic and important secondary characters, which I really appreciated.
Moreover, we got some cameos into this book,
which made my little fangirl heart happy
(because Jem <3). At the beginning, someone mentioned Simon's ex-band, TMI which of course stood for the Mortal Instruments and
oh the feels
. We didn't see every main character of the previous series, but we still learnt what was going on in their lives, that's all I wanted, I don't really want them to take too much screen time.
I found the plot to be very strong, I was hooked from cover to cover (even if technically I read it as an e-book... I'm waiting for my copy to arrive) and I didn't find that it dragged a lot, which had scared me because of the length of this novel. This plot was about solving murders and I liked that the Shadowhunters actually used mundane technology, it felt so much more realistic! I also really appreciated all the subplots, because I was interested in all of them. It was full of twists and turns and some of them left me gasping, because I wasn't expecting it. At all.
The romance was amazingly written, like usual and
I was rooting for the characters so much
. Of course, we're only in the first book so it can't actually last right now but it was painful, because Clare makes us hope. *sobs* These characters are so made for each other and I'm not buying this b******t. Nope. But I'm excited to understand more about it. Nevertheless: why Emma? why??
It also contained a LGBT romance and I wasn't expecting it for this character because I thought it would be between Helen and Aline, but obviously they're not here. Please I need Helen and a happy Blackthorn reunion *cries*
Basically, the ending was really painful to read about and now I just want the second book. I found the epilogue a little predictable, but that's just my opinion. It was just enough to make me eager for the rest of the story, even though I totally wanted to read the next book just because of the romance, because I need these characters together. At least there won't be a love triangle, right?
Overall, I think Cassandra Clare grew a lot as a writer and if you weren't a big fan of the Mortal Instruments, you could actually really enjoy this one. Did I love it as much as the Infernal Devices? I cannot say until I've read the whole trilogy sadly. Still, it balanced suspense, romance and action perfectly and it was so gripping! I just need the next book NOW.
Have you read my
whole revie
w (if you did, you deserve a cookie!)? Have you read this book yet? Your thoughts? Do you love the Shado
w
world? Do you
want to read this series?