I read quite a few books in February which means that... If I did one review per book, my March schedule would be full already! So I choose to pair some of them, you'll have more content this way! ;) I tried to do mini-reviews... But failed, I wrote way much more than I wanted to. The two books I'm talking about today were both released on February 9th and are both fantasy books about human beings with special powers.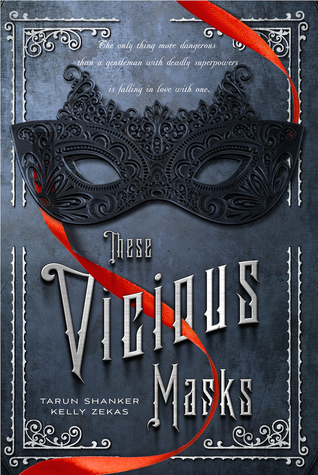 These Vicious Masks (These Vicious Masks #1) by Tarun Shanker and Kelly Zekas
Published: February 9th 2016 by Swoon Reads
Genre:
young adult, fantasy, historical
Goodreads summary:
Jane Austen meets X-­Men in this gripping and adventure-­filled paranormal romance set in Victorian London.
England, 1882. Evelyn is bored with society and its expectations. So when her beloved sister, Rose, mysteriously vanishes, she ignores her parents and travels to London to find her, accompanied by the dashing Mr. Kent. But they're not the only ones looking for Rose. The reclusive, young gentleman Sebastian Braddock is also searching for her, claiming that both sisters have special healing powers. Evelyn is convinced that Sebastian must be mad, until she discovers that his strange tales of extraordinary people are true—and that her sister is in graver danger than she feared.
REVIEW
I was quite intrigued by the pitch: "Jane Austen meets X-Men" and I thought it totally lived up to that. This novel is set in Victorian England, so of course, it was a total winner for me. I was so excited to get back into this time period, and wasn't disappointed, at all. This book was set in London and we saw society parties just like dark places and streets, which I really enjoyed. I totally felt like the authors had done their research and felt like I was there.
Evelyn was a great main character, she was snarky and independent. I really liked being in her head during this story and she made me laugh quite a few times. I liked the other characters but felt like some of them were a little cliché, like Laura, Mr Kent's young sister, she totally thought she was in the middle of a gothic novel or something. I found Miss Grey to be really interesting and I'm eager to read about her more in the next book. It seems that the book was setting a love triangle, and I really, really, really don't want that *sigh* For now, I like Sebastian more, but we'll see in the next book.
Oh no, a potential love triangle
The plot focused on a mystery, finding Rose, Evelyn's sister. I really enjoyed that, because mysteries were such a trend at that time! This type of plot kept me entertained during the whole book, which wasn't that hard to accomplish, since it was pretty short. Some aspects of the ending surprised me, because I hadn't thought the authors would go there, but it will serve its purpose I guess.
I liked that there was a theory about the abilities the characters possessed. A doctor thought it was a consequence of evolution, which made sense in a society that were influenced by Darwin's works, at that time. It also felt so much more realistic. Nevertheless, it seems like there must be more than that and it will be explored in the next book. At the end of this book, it totally feels like some of the characters will go in search of other people with abilities, which I'm really excited about, it feels like the beginning of the X-Men.
I really enjoyed this book and am excited to read the sequel next year, especially since it seems we'll see Belgium (!!). I felt like the setting of this book was realistic and I really enjoyed the plot, but some of the secondary characters felt a little cliché. It's a quick book to read who'll keep you entertained, which is all you can ask for!
Glass Sword (Red Queen #2) by Victoria Aveyard
Published: February 9th 2016 by HarperTeen
Genre: young adult, dystopia, fantasy
Goodreads summary: The thrilling second book in the #1 New York Times bestselling Red Queen trilogy follows Mare Barrow on her mission to defeat the traitorous Maven.
Mare Barrow's blood is red—the color of common folk—but her Silver ability, the power to control lightning, has turned her into a weapon that the royal court tries to control.
The crown calls her an impossibility, a fake, but as she makes her escape from Maven, the prince—the friend—who betrayed her, Mare uncovers something startling: she is not the only one of her kind.
Pursued by Maven, now a vindictive king, Mare sets out to find and recruit other Red-and-Silver fighters to join in the struggle against her oppressors.
But Mare finds herself on a deadly path, at risk of becoming exactly the kind of monster she is trying to defeat.
Will she shatter under the weight of the lives that are the cost of rebellion? Or have treachery and betrayal hardened her forever?
The electrifying next installment in the Red Queen series escalates the struggle between the growing rebel army and the blood-segregated world they've always known—and pits Mare against the darkness of her own heart.
REVIEW
I was on the fence about Red Queen and I think that I liked Glass Sword slightly better. I really enjoyed the plot of this book, that we learnt more about the Scarlet Guard, I was interested during the whole book and never got bored. I'll concede that the pacing was uneven and that it was really slow in the beginning, after two fast-paced chapters. Moreover, I really liked to see other newbloods in the story, even though there were so many of them that I'm not sure I'll remember any names… I'm sure I'll need a recap when the next book will be released.
Mare got on my nerves in this book, she was totally unreliable and reminded me a lot of Katniss at some point - I felt like some aspects of the story were similar to the Hunger Games - but maybe I'm just on witch hunt mode for similarities. Anyway, one of the problems that I had with this book is that… I don't care for the characters, they don't move me, I don't really know why.
I didn't really like the romance either, because I felt like everyone was in love with Mare… And the rest hate her. Not really but at some point, it felt ridiculous. Kilorn was such a Gale from District 4 since he was a fish boy, it made me laugh so hard. He's just in the same situation that Gale was with Katniss, which made me roll my eyes. Of course, there is also Cal, and maybe Maven, who knows what happens in his sick head? Some aspects of Mare and Cal's relationship was actually reminiscent of Katniss and Peeta's in the first half of Catching Fire… So there is also that *sigh*
One of Aveyard's strengths is to write suspenseful endings, which she showed again at the end of Glass Sword. It was full of twists and turns and was sometimes unexpected. This ending made me gasp for more, but why isn't it like that the rest of the time? Some readers might totally give up and never get to the ending, so I don't think it's a wise move to do it this way, but well… It's so frustrating to have an okay book and then a good ending. I'll probably read the next book, or during the time span of the year, I'll lose interest in the series. I don't really know, but there are still two books to be published and I don't know what the author will say during those two books.
Have you read any of these books or do you plan to do so? Are you a fan of the Red Queen series? Of Victorian England novels?