Top Ten Tuesday is a weekly feature created by
The Broke and the Bookish
. This week's topic is: Ten Books I Really Love But Feel Like I Haven't Talked About Enough/In A While. I'm choosing to go with books I haven't talked about enough, that I read before I even started doing this blog and after I started reading in English (meaning 2013), because it wouldn't be very useful to you if I only talked about French books that haven't been translated in English, haha. You probably know all of these books, since they're among the first books I read in English and everyone was talking about them at that time, so we should be able to fangirl together! ;)
1. Just one day by Gayle Forman
- I read almost every book by this author, but this one is my favourite, along with
If I Stay
. I read it at a big turn in my life and I felt like it had been written for this exact moment. Moreover, the main character is going to Paris, where I live because of university, so I loved discovering the city all over again through her eyes. Unfortunately, the sequel isn't as good as this one, but I still loved it. It was a cute coming-of-age and romance novel.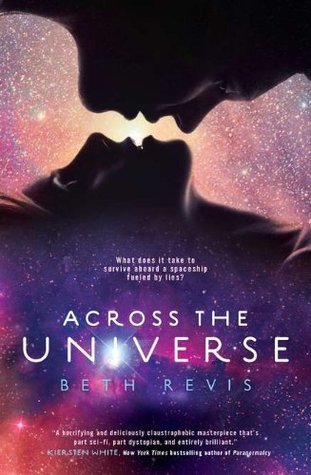 2. Across the Universe by Beth Revis
- I think this must be the first sci-fi series I read and I loved it so much! The characters were aboard a spaceship and had to find a new Earth to live on. I was so intrigued about this society during the entire book, I found that Beth Revis had created an interesting and realistic world. If you haven't read it yet, it's a little like
the 100
, but they stay on the ship a looooong time during the trilogy.
3. Siege and Storm by Leigh Bardugo
- This one is my favourite in the trilogy, because obviously, there is a ship. Oh, and Nikolai. Funny story, I read
Shadow and Bone
on the Kindle app, then bought Siege and Storm in hardcover, because it was soooo good. I only own a hardcover copy of S&B since October, when I meet Leigh in Rotterdam, better now than never! Anyway, I feel like the second book was the best out of the trilogy, which almost never happens!
Also Nikolai!!
4. Ruby Red by Kerstin Gier
- It's a German trilogy and I read it in French but... It doesn't matter. Actually, I had a friend who knew the French translator, which is why I read this, haha. I loved it, it's about secret societies and time travel. Nevertheless, Gwen was
so annoying
sometimes, ugh. There was also a movie, which I liked and made me want to reread the books, even though I don't own them. I can't wait for
Emerald Green
's movie! This author also wrote another trilogy, the second book will come out in English on May 3rd. It reminds me a little of
the Raven Boys
, it was quite good! But the drama will be back in the second book, just like in
Sapphire Blue
, ugh.
5. Anna dressed in blood by Kendare Blake
- This one was
so hard to read
. I remember reading the first page and not understanding anything. Starting reading in English was tough, that's why I remember this one: I was so proud of finishing it and understanding it. It's about a boy who hunts down ghosts and he falls in love with a ghost so yes!! There isn't enough good books with ghosts out there but this one was great! The sequel wasn't as good but the first one was on point. It was even scary at some point and I'm not scared easily with books. Kendare Blake is a good writer, I'm excited for her new book,
Three Dark Crowns
, coming out later this year.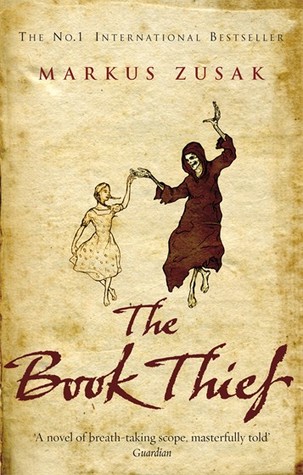 6. The Book Thief by Markus Zusak
- Oh, the feels! I'm not a huge fan of
W
orld
W
ar II novels, as you may know (because the setting is awful, but I'm trying!), but this one was quite unique. It was told by Death, so it's a win, obviously. Also, it's about books and it's so, so, so sad. It's such a quotable book, I love it so, so much! (Key word = so).
"The only thing worse than a boy who hates you: a boy that loves you."
"I have hated words and I have loved them, and I hope I have made them right."
I'm ashamed to say I haven't seen the movie yet but I definitely should. Soon, I hope, but I don't watch a lot of movies, so we'll see. I have problems of attention with movies/TV shows/videos.
7. Obsidian by Jennifer L. Armentrout
- This book is so cheesy and reminded me of
Twilight
so much, but I loved it. It's just a fun and addictive book, it's a guilty pleasure book, let's be real. Also, it makes me feel nostalgic every time, because I think it's the only series of this author that I love. I disliked
Half-Blood
,
White Hot Kiss and gave up on
Wicked after a fe
w pages, because it was trope after trope and it made me cringe. I still think the
Lux
series was good and I had so much fun marathoning the series: after each book, I just wanted to read the next one.
8. Under the Never Sky by Veronica Rossi
- Oh look, a dystopian trilogy without a love triangle? How unique is that? Seriously, I was so pleased when Rossi chose not to include a love triangle, because that's basically the plot of so many dystopian books. Moreover, I liked the concept of this book, some people couldn't just go outside or they would die. The society outside the Compound also had its own system, it worked with senses and it was the first time I saw it. I found this book to be a unique dystopian novel, which doesn't happen a lot.
9. The Archived by Victoria Schwab
- I think it was the first book by Victoria Schwad I read, and she's now one of my favourite authors. I found the premise of the story so unique and interesting: when you die, your soul go on a shelf and there are people to protect it and the world from souls that escape. It was really interesting and gripping. Apparently, there will be a third book at some point, why not? I want her to write ADSOM3 first, then we'll see, because I'm dying after
A Gathering of Shadows
.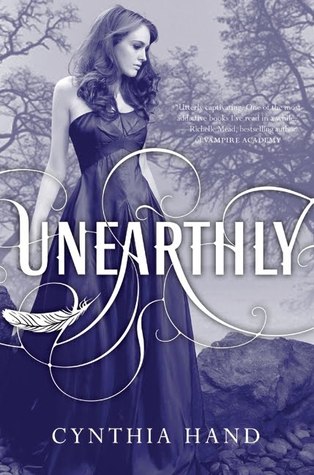 10. Unearthly by Cynthia Hand

- I love this one so, so much. For

Unearthly

, I own a UK edition I dislike very much, I should buy it as a hardcover, but moneyyyy. Anyway, it was a cute paranormal romance book about angels and

oh the feels

. I remember crying a lot during this trilogy, because OTP problems. Also Angela was a really good character. Moreover, Cynthia Hand managed to make the angel world more complex than I thought it would be, which I appreciated. I had a little issue with the ending of Boundless but other than that, it was so good.

No I swear I won't talk about the Last Time

W

e Say Goodbye by this author, even though it broke me. I feel like I talk about this one every time.
Have you read any of these books?
What did you think of them?
What books do you think you haven't talked about enough/in a

while?