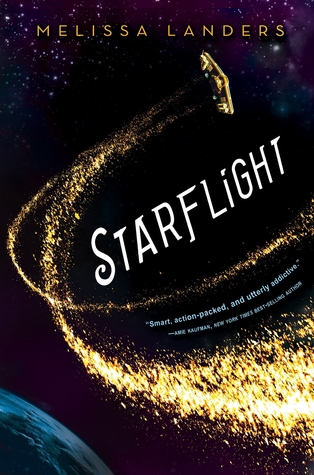 Starflight (Starflight #1) by Melissa Landers
Published:
February 2nd 2016 by Disney Hyperion
Genre:
young adult, science-fiction
Goodreads summary:
Life in the outer realm is a lawless, dirty, hard existence, and Solara Brooks is hungry for it. Just out of the orphanage, she needs a fresh start in a place where nobody cares about the engine grease beneath her fingernails or the felony tattoos across her knuckles. She's so desperate to reach the realm that she's willing to indenture herself to Doran Spaulding, the rich and popular quarterback who made her life miserable all through high school, in exchange for passage aboard the spaceliner Zenith.

When a twist of fate lands them instead on the Banshee, a vessel of dubious repute, Doran learns he's been framed on Earth for conspiracy. As he pursues a set of mysterious coordinates rumored to hold the key to clearing his name, he and Solara must get past their enmity to work together and evade those out for their arrest. Life on the Banshee may be tumultuous, but as Solara and Doran are forced to question everything they once believed about their world—and each other—the ship becomes home, and the eccentric crew family. But what Solara and Doran discover on the mysterious Planet X has the power to not only alter their lives, but the existence of everyone in the universe...
When I first heard about this book, I wasn't expecting a lot from it. I read Melissa Landers' debut, Alienated, when it came out, and really disliked it, because it was full of clichés and almost only focused on the romance. So if you're like me and disliked Alienated, you should still read Starflight, which I found so hilarious and entertaining. If you're a 'beginner' in sci-fi, you can also start with this one, because it doesn't involve complicated theories.
The beginning of the story was a little predictable, with Solara wanting to go to the outer realm and having no choice but to go with her nemesis, Doran. It was obious they would warm up to each other during the story, but I still really enjoyed reading about it. The plot really surprised me, I didn't really know what to expect, but it's more complex that I thought. It involved pirates, conspiracy and space ships, I don't see how I can ask any more. I really enjoyed the fact that some twists surprised me, because I hadn't thought this or that could be a possibility. This book was more of a fun book to read quickly, with no pressure. When I think about some scenes, I'm still laughing. It

was action-packed, but sometimes I felt like I

was

waiting for something big to happen, so maybe it dragged in some parts - or I

would have read faster.
Starflight didn't have a lot of world-building, but it didn't need it anyway. At the beginning of the book, our two main characters are on Earth and then they go in space. It's basically our world if we were able to colonize other planets. Also, you can note that a Planet Disney was mentioned, which made me laugh and eager to get there. Melissa Landers still managed to describe a realistic world I can totally see as an evolution of our world. It

was a little like the Starbound trilogy with a powerful company and conspiracies, which I liked. Landers' still created special beings, the Daeva,

whose

will gave you goosebumps.
I found the characters to be interesting and realistic. Solara was a mechanic, typical in sci-fi, that had to fend for herself all life because she was basically an orphan - I would like to know more about that aspect by the way. She was daring and I really enjoyed that about her, she never gave up or anything. I had a harder time liking Doran, because he was such a jerk in the beginning. He went through a lot of character development and I even liked him at the end of the book. He was more resourceful than everyone was saying, which actually made sense since his father was sending him into missions all the time. The secondary characters -the crew- were all interesting and had their secrets. I loved learning about them, because at first, we knew nothing about them, just like the main characters.
The dynamics between the characters worked well, thanks to witty dialogue. Of course, there was Solara and Doran's romance, which was a hate-turned-love type of relationship, which I enjoyed, even if I found that Doran was a bit quick in changing his opinion of Solara, even if I get it, he was in a bad situation and had to think through everything. Their dynamics were still well written and at some point I was just waiting for them to finally kiss. I think they reminded me a little of Tarver and Lilac in These Broken Stars. Landers managed to write a realistic relationship for them and I don't think they'll have to deal with drama in the next book, since it'll focus less on them. There were other interesting dynamics among the crew, the best one was of course the family aspect. At the end of the novel, the characters were ready to do anything for each other, which makes me want to read the sequel now.
I even liked the idea of Acorn, even if in the beginning I was sceptical.
I was surprised by one turn of event, I'm wondering if I could have predicted it, but the author still got me.
It was more of an open-ending which could almost make me feel like this one is a standalone. I would have liked more closure because there is one plot point. Moreover, I'm not sure I'll have my answer straight away, since the sequel will focus more upon Cassia and Kane, even if we'll still see the main characters.
Overall
, this

was an entertaing book

which

was so much fun to read about. I didn't feel

this spark

that makes an amazing book, but I still loved it. The characters

were interesting, especially since

we didn't know everything about them. The romance

was cute and enjoyable.

I don't know if the second book

will be as good as this one, since it seems to involve more drama, but I'll read it nonetheless. If you're looking for a quick book to read that

will entertain you should pick this one up, even more if you loved Illuminae or the Starbound trilogy.
Do you love sci-fi books? Have you read this one?

What did you think of it? Did you have a Illuminae/Starbound vibe?