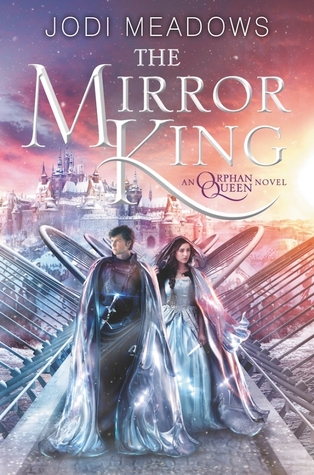 The Mirror King (The Orphan Queen #2) by Jodi Meadows
Published: April 5th 2016 by Katherine Tegen Books
Genre: young adult, fantasy
Goodreads summary:
Wilhelmina has a hundred enemies.
HER FRIENDS HAVE TURNED. After her identity is revealed during the Inundation, Princess Wilhelmina is kept prisoner by the Indigo Kingdom, with the Ospreys lost somewhere in the devastated city. When the Ospreys' leader emerges at the worst possible moment, leaving Wil's biggest ally on his deathbed, she must become Black Knife to set things right.
HER MAGIC IS UNCONTROLLABLE. Wil's power is to animate, not to give true life, but in the wraithland she commanded a cloud of wraith mist to save herself, and later ordered it solid. Now there is a living boy made of wraith—destructive and deadly, and willing to do anything for her.
HER HEART IS TORN. Though she's ready for her crown, declaring herself queen means war. Caught between what she wants and what is right, Wilhelmina realizes the throne might not even matter. Everyone thought the wraith was years off, but already it's destroying Indigo Kingdom villages. If she can't protect both kingdoms, soon there won't be a land to rule.
In this stunning conclusion to THE ORPHAN QUEEN, Jodi Meadows follows Wilhelmina's breathtaking and brave journey from orphaned criminal on the streets to magic-wielding queen.
REVIEW
There, I'll say it and be done with it: The Mirror King has one of the prettiest covers I have ever seen. But well, so far Jodi Meadows has been pretty lucky with her book covers. But anyway, I would like to say that I loved this book as much as I loved the cover, or even more. It's one of my favourites of the year, by far. The Mirror King is 544 pages long and I read it in a day. Granted, I was on holidays, but I simply couldn't put it down.
The Mirror King
picks up right after the ending of The Orphan Queen and I'm happy I had only read the book in December, or I wouldn't have remembered much. The characters had to dealt with a lot of consequences, mainly because another character is going at war for Wil, but also because of the wraith. For me, the pacing was even, because the author alternated action scenes and slower scenes, but all of them made the story progress. While I read this book, I laughed, I cried, I smiled. Well, I mostly sobbed for a few chapters towards the end, and my heart hasn't recovered yet.
In Jodi Meadows' books, no one is safe, ever, and I really appreciate that, because it makes it all the more realistic. Of course, it means I'm crying my eyes out during the whole process (it was almost midnight so no one saw me at least) but it's so worth it. Moreover, the world expanded a little and I was pleased. But I think there would be room for a spin-off or something, since there is still ground to be covered.
For me, the strength of this book was its characters. I cared for each one of them, I understood them, even the antagonists. Also, every time we had a Black Knife moment, it was the best. During The Mirror King, Wilhelmina had to question everything she did, because people didn't like her, her feelings were a mess and she wasn't sure she would be a good queen. I liked how she struggled to find who she was during the book, just like Tobiah did, which made them feel more realistic. Moreover, I might want to add Tobiah to my book boyfriends list. Two revelations about the characters shocked me, because I wasn't expecting them at all.
The romance was swoon-worthy. Of course, it was complicated between the two characters, but I loved how they come to term with their feelings, and it was worth the wait. I could totally feel their chemistry and the rest of the characters also felt it, haha. I also really enjoyed the friendship aspect in this one, for example between Tobiah and James, Wilhelmina and Melanie, and so on. It was an important theme during the whole book, and it was a good thing, because it isn't always about romance.
I left The Mirror King satisfied with the ending, to be honest. I felt like my heart was full, because of all the love I had for this book. Yes, there are some loose ends, but what I wanted to be resolved now is and it ended on hope. That's what matters. The other day, I saw people asking for an epilogue on Twitter, and I'm like 'Why not?' but I don't think it's necessary. I can picture part of what happens next, and it makes me happy.
Overall
, I loved this duology and Jodi Meadows is becoming one of my favourite authors. Since December, I'm making my way through her books and I only have Infinite (last book in the Newsoul trilogy) left, which makes me sad. At least there will be My Lady Jane in June, but after that I shall wait for Fallen Isles. Anyway, I found that The Mirror King was an amazing conclusion, where I cared so much about the characters that I'm not ready to let them go yet. It didn't happen to me in a long time, to be honest.
Have you read this one yet? Any of Jodi Meadows' other books? Which book is the best one you've read so far this year?*
*I could pick like five, but it's between A Gathering of Shadows and Lady Midnight for me.