How It Feels to Fly by Kathryn Holmes
Published: June 14th 2016 by HarperTeen
Genre: young adult, contemporary, coming of age
Goodreads summary:
The movement is all that matters.
For as long as Samantha can remember, she's wanted to be a professional ballerina. She's lived for perfect pirouettes, sky-high extensions, and soaring leaps across the stage. Then her body betrayed her.
The change was gradual. Stealthy.
Failed diets. Disapproving looks. Whispers behind her back. The result: crippling anxiety about her appearance, which threatens to crush her dancing dreams entirely. On her dance teacher's recommendation, Sam is sent to a summer treatment camp for teen artists and athletes who are struggling with mental and emotional obstacles. If she can make progress, she'll be allowed to attend a crucial ballet intensive. But when asked to open up about her deepest insecurities, secret behaviors, and paralyzing fears to complete strangers, Sam can't cope.
What I really need is a whole new body.
Sam forms an unlikely bond with Andrew, a former college football player who's one of her camp counselors. As they grow closer, Andrew helps Sam see herself as he does—beautiful. But just as she starts to believe that there's more between them than friendship, disappointing news from home sends her into a tailspin. With her future uncertain and her body against her, will Sam give in to the anxiety that imprisons her?
REVIEW
If you didn't know this about me yet: I love ballet. I practiced for ten years (I had to stop to study *sigh*), but I still love to watch. Weirdly enough, I don't read many books about that. So when I heard about How It Feels To Fly, I was determined to read it for the one and only reason that the main character was practicing ballet. It looks like my contemporary mood is here, everyone! *happy dance*
First off, let me tell you that ballet's representation was accurate. When I was reading the description, I could imagine Sam dancing, which might have been easier because I knew the terms, but WHATEVER. While I was never a professional, I also think the book showed how this world actually worked, but also the struggles any dancer had to get through. Yes, your appearance is important in ballet, I won't deny that. For example, in the Opéra de Paris, you have restrictions for weight, but also height (which is pretty stupid as you can't fight it… But aesthetics, you know?), so I could definitely see people giving Sam the hard look as she had gained some weight.
People can be so stupid when they judge
I related so much to Sam as a main character. She had issues with her appearance, especially her weight, and even though it was never my case for the latter, I think that any teenager out there goes through this phase when you're doubting yourself (and even adults), hating how they look and all of that. Because of that, I could understand Sam's struggles and the mantra she had, in the end, made me so happy. We all need to believe in and accept ourselves. This book totally succeeded to pass through this message. Along those lines, Sam was also really insecure and had doubts about who she wanted to be. Because of that, How It Feels to Fly also managed to be a great coming-of-age story, grasping the feeling of doubt and fear for the future.
As this book was set in a camp, the characters had all the fun activities that go along those lines, but they always had a purpose, for they took a part in each camper's therapy. I was expecting so many more characters to be honest, but there was only six campers, two former campers helping around and a doctor. I appreciated the characters so much more because of that, since it allowed me to know all of them, I understood their issues and loved them all. It was also really interesting to see the dynamics between them evolve, as they were so distant in the beginning, because they were artists/athletes, and those are such individual paths, but then grew so close and helped each other out. Katie was by far my favourite of the campers, because she was like the little sister, so much cuteness there.
The little downside of the book was the romance. I admit that I could understand Sam's feelings, because she had a crush on Andrew, an older but not that much figure that helped her when she needed it the most. Sometimes these feelings get so confusing and it happened to me so many times, so I totally related to the romance and got why she was thinking about him so much. But it still took a big step on the story when I would have wanted to see more of the other stuffs. Nevertheless, I was satisfied with how the author concluded on the subject.
Reading about mental health was so interesting in How It Feels to Fly, because it was about how we need to face our fears to evolve. Of course, it's not easy. Of course, it takes all the time in the world. Of course, there is no complete cure and our issues can't leave us forever. This book still managed to depict so many different mental health issues and I felt like it was so important. I especially appreciated that the book was written in the first person, because we got to read Sam's inner voice, which was harsh, but rang true. My inner voice is also insufferable and I'm trying to shut it up every day. It's nice to see I'm not the only one.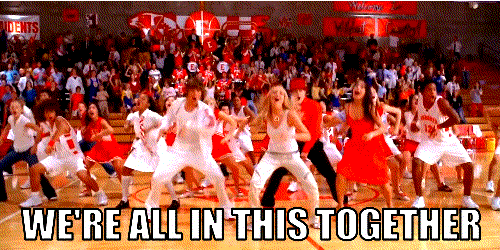 Overall, I wasn't blown away by this book or anything, but I still think that it was a great contemporary novel about mental health that had a lighter tone to it, because of the summer camp setting. I definitely related to the main character, because of her struggles and her passion, and found that the author did a great job. I will definitely read Kathryn Holmes' next works.
Have you read this book yet? What did you think of it? Do you read books about ballet? If so, do you have some recs for me?