Waiting on Wednesday is a weekly feature hosted by Jill of
Breaking the Spine
in which we discuss our most anticipated upcoming releases.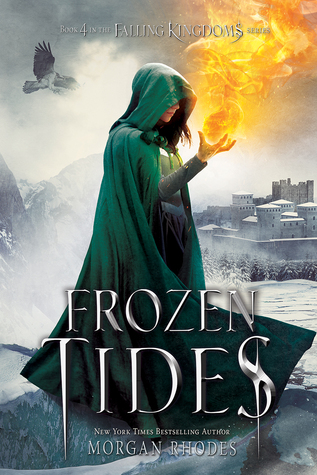 Title: Frozen Tides (Falling Kingdoms #4)
Author: Morgan Rhodes
Published: December 15th 2015 by RazorBill
Goodreads summary:
Rebels, royals, and monsters wage war over the Mytican throne in the shocking fourth book of the Falling Kingdoms series, from New York Times bestselling author Morgan Rhodes.
CLEO:
Reeling after a bloody showdown in Limeros ending with Amara's abduction of the water crystal, and a vacancy in the Mytican throne, Princess Cleo must cast aside her feelings and look toward her kingdom with the eyes of a Queen.
MAGNUS:
With the kingdom in chaos, Princess Lucia still missing and quite possibly in danger, and a shocking realization about Cleo, the steely prince is once again torn between love and duty, leaving him wondering whether he's strong enough to rule his people.
LUCIA:
The young sorcercess has had her vengeance after the cruel death of her first and only love. Heartbroken and unable to trust anyone, she allies with the awoken Fire god, who also seeks revenge.
JONAS:
After escaping death by the skin of his teeth, the defeated rebel—along with a mysterious stranger–leader reunites with Princess Cleo, only to find himself a mere pawn in a dangerous hunt for the elusive Kindred.
KING GAIUS:
Abandoned by Melenia and betrayed by his own children, Gaius flees Mytica and sails to Kraeshia, where he attempts to ally with the famously brutal emperor across the Silver Sea.
Have you seen how gorgeous the cover is? *grabby hands*
This series is one of my favourite among YA high fantasy books. It's basically Game of Thrones... But for teens. The world is rich and complex, I love that you get to read the point of view of the "guardians" of Mytica, it's unique, it's like reading from the Fates if we were in a Greek perspective. Of course, I have my favourite characters, but every point of view adds something to the story, because everyone is seeking the Kindred and has a different perspective. Also, I'm a Cleo/Magnus shipper, so I can't wait to see what will happen to them in this book. This is the fourth book so A LOT will happen. I have high hopes for this one, I pray that it won't be a little disappointment like Queen of Shadows, who also was a fourth book.