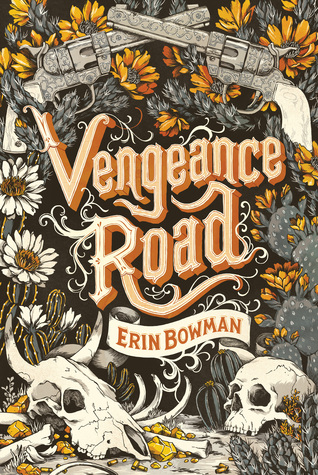 Title: Vengeance Road
Author: Erin Bowman
Published: September 1st by HMH Books for Young Readers
Goodreads summary:
Revenge is worth its weight in gold.
When her father is murdered for a journal revealing the location of a hidden gold mine, eighteen-year-old Kate Thompson disguises herself as a boy and takes to the gritty plains looking for answers—and justice. What she finds are untrustworthy strangers, endless dust and heat, and a surprising band of allies, among them a young Apache girl and a pair of stubborn brothers who refuse to quit riding in her shadow. But as Kate gets closer to the secrets about her family, a startling truth becomes clear: some men will stop at nothing to get their hands on gold, and Kate's quest for revenge may prove fatal.
Western is pretty new to the YA genre, but I think it is a trend I will totally enjoy! I actually only saw one western movie in my life, a few months ago, it was SO LONG but I enjoyed the plot. I'm a history major at uni, so of course I like historical fiction. I've read a lot of books set in that time period – Something Strange and Deadly is set in 1876 – but never about the Golden Rush.
I was immersed in the book straight away, because Bowman chose to use the slang of that period, it worked beautifully, it made me feel like I was there. I think the author did a lot of research; the atmosphere is accurate, like what we see in Western movies.
I really enjoyed our main character Kate, how tough she was, when she was supposed to be at such a time period. She disguised herself as a boy not to draw attention, she was so much into fighting, and didn't want to be a wife who stays at home to take care of the children. If I recall well, she was at a marrying age but it wasn't her goal at all, even if she might have picked the interest of some guys. There was a romance in the book, but it was such a minor part of the plot, I really enjoyed that, because it wasn't what Kate wanted after all.
"That sounds real nice, boy," he says. "Now for the love of God, lower that damn pistol."

"All right," I says.

And I do.

Right after I shoot him through the skull.
The plot was really interesting; with kick-ass action scenes, however sometimes I was a little bored because it felt repetitive. The way Bowman included folklore was really interesting and was relevant to the plot. There was a nice plot twist I didn't see coming at the end of the story, I enjoyed it quite a lot. I really liked that an Appalachian girl was an important character to the story, because she was part of a different culture all together, it was a way to add some diversity to the story. Also, Kate's favourite book is Little Women, which was one of my favourite when I was a kid I was so happy about that!
"Then you ain't found the right book yet," I says.

"There's something for everyone."
I really enjoyed this book, its genre is quite new in YA, I think I will enjoy this trend a lot: I still need to read Walk on Earth a Stranger and I'm eagerly anticipating Revenge and the Wild (it's steampunk!) next year. However, I don't think those kind of books are for everyone, because you have to be okay with people dying all the time. Those books aren't a romantic representation of the Wild West, but as close as possible from the truth.