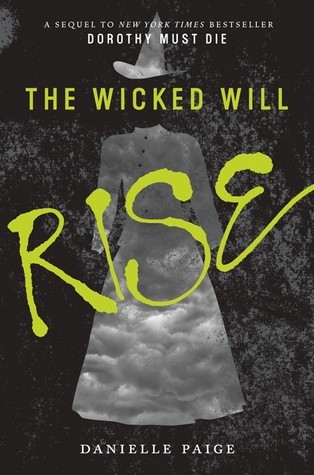 Title: The Wicked will rise (Dorothy Must Die #2)
Author: Danielle Paige
Published: March 31st 2015 by HarperCollins
Goodreads summary:
In this dark, high-octane sequel to the
New York Times
bestselling
Dorothy Must Die
, Amy Gumm must do everything in her power to kill Dorothy and free Oz.
To make Oz a free land again, Amy Gum was given a mission: remove the Tin Woodman's heart, steal the Scarecrow's brain, take the Lion's courage, and then Dorothy must die...
But Dorothy still lives. Now the Revolutionary Order of the Wicked has vanished, and mysterious Princess Ozma might be Amy's only ally. As Amy learns the truth about her mission, she realizes that she's only just scratched the surface of Oz's past—and that Kansas, the home she couldn't wait to leave behind, may also be in danger. In a place where the line between good and evil shifts with just a strong gust of wind, who can Amy trust—and who is really Wicked?
REVIEW
I talk a lot about Second Book Syndrome, because I'm always scared a second book will just be a transition. Here, it was totally the case and you can see it because of the number of pages. The hardcover of Dorothy Must Die is 452 pages long, but The Wicked Will Rise was 293 pages long. Well, that's an issue.
WHAT MADE ME WANT TO BE HAPPY ON THE OTHER SIDE OF THE RAINBOW
1)
The beginning was fast-paced, we got to see Amy fight the Lion and everyone was scared of her. I really enjoyed that scene which showed how much Amy grew since the first book. It was a really good scene that put me straight back into the story.
2)
We got to explore a lot more of this world, because the book is mainly about Amy's journey, first to the Monkey's Kingdom, then to the other side of the rainbow. Paige was successful in expanding her world, I think it's my favourite aspect of the book.
3)
We got an explanation for the link about Oz and Kansas, it was interesting!
HOWEVER I DISLIKED MOST OF THE BOOK AND ALMOST WANTED THE SCARECROW TO END MY SUFFERINT (WELL, MAYBE NOT A GOOD IDEA)
1)
This book was BORING because I don't feel like a lot happened.
2)
I loathe the romance SOOOOO MUCH.
3)
Nothing happened and that at the end I guess I was supposed to wake up and follow what was happening but I didn't understand anything. It was like NOTHING NOTHING UM NOTHING INFO DUMP YOU WON'T UNDERSTAND A THING AND BE CONFUSED MUHAHAHA.
The real question is: will I read the next book? Honestly, I'm not sure. I'm afraid I won't like it and I will probably forget everything about this series before it's released. But, well, I'm not saying I won't read it ever. I also might give another chance at Danielle Paige because apparently she's coming with a new series that I might enjoy more. She has great ideas for world building, it could work this time.
Have you read this book? Did you enjoyed it more than me (I wish you did)? Are you planning to read the last one in the series?