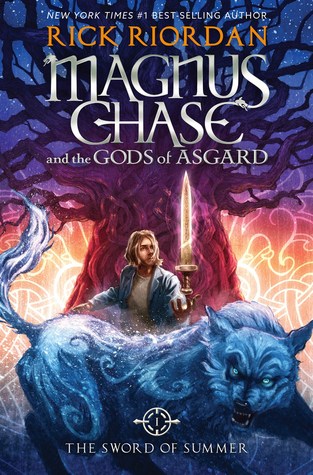 Title: The Sword of Summer (Magnus Chase and the Gods of Asgard #1)
Author: Rick Riordan
Published: October 6th 2015 by Disney - Hyperion Books
Goodreads summary:
Magnus Chase has always been a troubled kid. Since his mother's mysterious death, he's lived alone on the streets of Boston, surviving by his wits, keeping one step ahead of the police and the truant officers.
One day, he's tracked down by a man he's never met—a man his mother claimed was dangerous. The man tells him an impossible secret: Magnus is the son of a Norse god.
The Viking myths are true. The gods of Asgard are preparing for war. Trolls, giants and worse monsters are stirring for doomsday. To prevent Ragnarok, Magnus must search the Nine Worlds for a weapon that has been lost for thousands of years.
When an attack by fire giants forces him to choose between his own safety and the lives of hundreds of innocents, Magnus makes a fatal decision.
Sometimes, the only way to start a new life is to die . .
I read a lot of negative reviews about this book so I admit I was a bit anxious going into it. These reviews said Magnus Chase and the Sword of Summer was a lot like the PJO books and I totally agree with that. The chapter titles are back in all their glory, like: "Come to the Dark Side. We have Pop-Tarts" or "We are Falafel-Jacked by an Eagle". Being in the head of Magnus while he was telling his story reminded me a little too much of Percy's point of view in the first books, it had the same sassy tone, I'd have liked it better if the point of view felt more new to me. Magnus was hilarious and had his own personality though.
The monster's ridged forehead and tapered snout made him look more like an eel than a snake. His hide glistened in a camouflage patchwork of green, brown and yellow. (Here I am calmly describing him. At the time the only thought in my mind was: YIKES! HUGE SNAKE!)
Moreover, there is also the matter of the quest, because it is the plot of every book Riordan wrote on this world. But well, I knew what to expect so I don't know if I can complain.
Anyway, it was a strong plot and I really enjoyed that Magnus' quest started in the mortal world, before he knew the truth about himself. His family had connections with Vikings, it was so great. Still, I thought this book was a bit long, because Magnus really starts his quest page 148. I know we needed explanations on this world, but then the quest should have been shorter. The way mythology is handled is just like Riordan's previous books so I don't have anything to add about it, but it was as much fun as usual (Thor is addicted to TV shows, Odin to PowerPoint presentations). This book felt a little more educational than the previous one, because I didn't know a lot about Norse mythology, compared to the Greek/Roman and Egyptian ones.
I loved that Riordan made an epilogue; it felt so much like a Marvel movie when you have a last scene that reveals what will happen in the next one. It was full of evilness and we all want that, let's be real!
The characters were amazing, it was a very diverse cast of characters, both for our mortal world (one character is Muslim, another one deaf) and in the Nine Worlds (a demigod, a Valkyrie, an elf and a dwarf). It is something a lot of people are talking about these days, I liked that it was important in here. Magnus wasn't particularly badass, like some people said, he isn't really a warrior, but he can be a lot more. There wasn't romance in here – even if something "happened" for secondary characters at the end – but it's not something to be surprised about, because Riordan never focuses a lot on that (except PERCABEEEEETH).
This leads me to… We had Annabeth cameos and the last one was everything. This book is also a lot about family, from the one you have blood bonds with to the one you create for yourself, it was really enjoyable. The final thing I would like to highlight is the multiple pop culture references. From PJO when Magnus asks his sword to be a pen to Doctor Who when he says something is bigger on the inside, it was everything.
I had so much fun reading this book, I actually laughed out loud several times – which doesn't happen that often. I'm actually really excited for the second book, because I fell for the story and the characters. I had reasons to be scared, because it is a lot like PJO, but once you're aware of that… You won't care and love this book anyways.
Have you read this book? What did you think of it?