These books have in common that I was really excited about them, but I was disappointed and they took me forever to get through. *sigh* I still liked them but I won't really recommend them.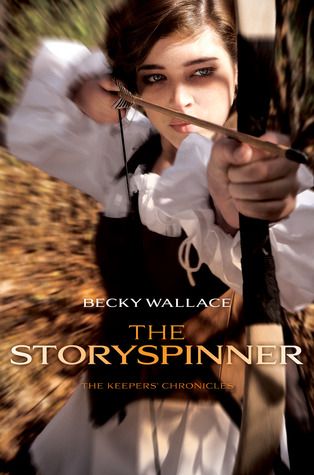 The Storyspinner (The Keeper's Chronicles #1) by Becky Wallace
Published: Marchi 3rd 2015 by Margaret K. McElderry
Genre: Young adult, High fantasy
Goodreads summary:
Drama and danger abound in this fantasy realm where dukes play a game for the throne, magical warriors race to find the missing heir, and romance blossoms where it is least expected.
In a world where dukes plot their way to the throne, a Performer's life can get tricky. And in Johanna Von Arlo's case, it can be fatal. Expelled from her troupe after her father's death, Johanna is forced to work for the handsome Lord Rafael DeSilva. Too bad they don't get along. But while Johanna's father's death was deemed an accident, the Keepers aren't so sure.
The Keepers, a race of people with magical abilities, are on a quest to find the princess—the same princess who is supposed to be dead and whose throne the dukes are fighting over. But they aren't the only ones looking for her. And in the wake of their search, murdered girls keep turning up—girls who look exactly like the princess, and exactly like Johanna.
With dukes, Keepers, and a killer all after the princess, Johanna finds herself caught up in political machinations for the throne, threats on her life, and an unexpected romance that could change everything.
The synopsis of this book appealed to me, because it seemed to include all that make a good high fantasy novel. Alas, it was a miss for me. I've heard a lot of great things from bloggers about this one and I didn't really understand what the fuss was about.
First of, this book has a ton of points of view. If I'm being honest, the points of view of the Keepers could have been reduced to one, because the interesting storyline was actually with Johanna and Rafi. Because the points of view switched all the time, I couldn't get attached to any of the characters and most of the time I wanted to skip some chapters - but I didn't, how brave. The romance was so cliché and pretty abrupt, because it seemed like they hated each other most of the book, but apparently no? I still liked the aspect of "they were supposed to be engaged" years ago.
The world-building was… Conventional with all these princess, dukes and so on stuff, but it lacked a little, in my opinion. I was just expecting more during the whole novel and it failed to deliver. For example, why the Keepers? Three of the points of view involved Keepers, so can I know what it's all about? Nope apparently. Moreover, I found names like "Keepers" or "Performers" to be pretty conventional and unoriginal.
Finally, the plot *sigh*. From the synopsis, it's pretty obvious who the princess is, right? But the whole book is just spent trying to figure out this "mystery", and the identity of the princess is just revealed at the end. It was way too long to do just that, I thought it would be resolved in the first half of the book. Because of that, the Keepers' storyline was boring, while I like Johanna and Rafi's. If we didn't have the Keepers, it would have been the same I think…
Nevertheless, I did enjoy this book, since I read it until the end. The chapters were short so it was easy to read, at least. I have no interest reading the second book though. Also, I was wondering why did the author take such a long time to reveal the princess' identity when there are only two books?
Rebel of the Sands (Rebel of the Sands #1) by Alwyn Hamilton
Published: February 4th 2016 by Faber & Faber (will be published in the US March 8th)
Genre: Young Adult, Fantasy, Western
Goodreads summary:
"Tell me that and we'll go. Right now. Save ourselves and leave this place to burn. Tell me that's how you want your story to go and we'll write it straight across the sand."
Dustwalk is Amani's home. The desert sand is in her bones. But she wants to escape. More than a want. A need.
Then a foreigner with no name turns up to save her life, and with him the chance to run. But to where? The desert plains are full of danger. Sand and blood are swirling, and the Sultan's enemies are on the rise.
REVIEW
Funny enough, when I first heard about this book, there were almost only 5 stars reviews on Goodreads, but now I saw a lot of 3 stars, so I'm not in the minority, ha-ha! Don't get me wrong, it was one of my most anticipated debuts of the year, I tried so much to like it, but sadly it didn't work that much. I enjoyed it, but it's part of this 3 stars book category where you don't love it but don't hate it.
The first chapter was engaging and full of guns, so I was so pumped to continue. Alas, it turned into a journey-ing type of book soon after and I got bored. It took me 6 days to get through it, which is insane considering that I'm a fast reader. Right at the end, it picked up and became badass and interesting again, but I had lost most of my interest in it. I finished it because it was a physical copy, but had it been an e-book I'd have DNF. So yes, I had a huge issue with the pacing. Nevertheless, I'm happy I sticked with it until the end, because it got so much better.
I think this book tried to be a lot of things, but it didn't work for me. It was a mix of Western and Arabian setting but it didn't really worked together. I like both aspects, but I felt like it didn't do well together. I was so excited for the Arabian setting, with jinnis and magical horses, but I didn't get nearly enough. We saw the horses in the beginning, but not its fantastical capacities. The jinnis part was more at the end of the novel, so I liked it better but still. If I had been more interested in the story, I could have seen the plot twist coming but nope. And I didn't feel blown away.
I really enjoyed the world building though, from the stories to the desert. I wish you could have seen something else than the desert all. the. time. because it felt so frustrating. I hope that, if I continue with this series, we'll see the palace at some point.
The real reason I'm mad about this book is… The rebellion. This book is called Rebel of the Sands, but yet, the characters only get to the rebellion around p. 220 and it disappointed me so much, because it's what I had been expecting during the whole book! The title was so misleading in this way, ugh. When they got to the rebellion, I got what I wanted, which made me really happy, so I still liked it.
Have you read any of these books or do you want to? Did you feel the Storyspinner ended up to be a conventional and alas unoriginal story? Are you planning to continue with this series? Do you know other books with jinnis (except Exquisite Captive, ugh)?