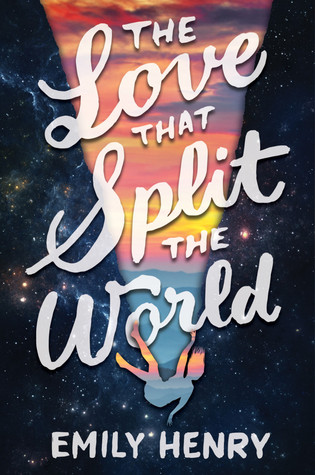 The Love That Split the World by Emily Henry
Published: January 26th 2016 by Razorbill
Genre: Young Adult, Contemporary, Time Travel
Goodreads summary:
Natalie Cleary must risk her future and leap blindly into a vast unknown for the chance to build a new world with the boy she loves.
Natalie's last summer in her small Kentucky hometown is off to a magical start... until she starts seeing the "wrong things." They're just momentary glimpses at first—her front door is red instead of its usual green, there's a pre-school where the garden store should be. But then her whole town disappears for hours, fading away into rolling hills and grazing buffalo, and Nat knows something isn't right.
That's when she gets a visit from the kind but mysterious apparition she calls "Grandmother," who tells her: "You have three months to save him." The next night, under the stadium lights of the high school football field, she meets a beautiful boy named Beau, and it's as if time just stops and nothing exists. Nothing, except Natalie and Beau.
Emily Henry's stunning debut novel is Friday Night Lights meets The Time Traveler's Wife, and perfectly captures those bittersweet months after high school, when we dream not only of the future, but of all the roads and paths we've left untaken.
REVIEW
This cover is gorgeous, just for that, you need to read this book, because it'll be so pretty on your shelf. JUST KIDDING. However, a little warning for you: don't get into it all excited for the time travel aspect, because this book was mostly contemporary. I didn't think it would be like that, so it disappointed me, but actually it's my own fault!
THINGS THAT I LOVED
Native Americans' stories
I had no idea it was part of the book, it took me completely by surprised, but I loved it, it opened me to a culture I don't know a lot about. Moreover, who doesn't like to hear a story? It always reminds me of when I was little. These stories had a point, because the more we progressed into the story, the more Natalie understood they were true.
An amazing main character
As you know, there is this huge movement about diversity in YA books, and this book was right into this path. Natalie was Native American and adopted. Even if she doesn't admit it straight away, she felt like she couldn't be fully understood, because she's from a different culture (she googles Native American reserves at some point and it freaked me out) and she doesn't know her biological family. At the same time, she loves her family more than anything, it was such an important issue, I loved it!
Moreover, Natalie was a smart girl I really enjoyed to read about, she had a purpose and was planning to go to Brown (!!). She was also a feminist and stood for herself and other women. At some point, a really bad thing almost happened to her and I found it was so important that the author choose to talk about it, without saying it was her fault. It's the kind of speech I want to hear more! Oh and you know what? Romance wasn't her priority. At all. She just wanted to get out of where she lived. But it still happened.
A cute romance
Okay, it felt a little instalove-y, but I really enjoyed the relationship between Beau and Natalie. They also made me cry twice, so there's that. I got their ending completely wrong by the way, I thought it would be like The Amber Spyglass by Philipp Pullman and I was preparing myself to suffer SO HARD. I was completely wrong about the ending, which I liked, but I still suffered SO HARD. Have a box of tissues with you while you're reading this. Oh and also: both characters love arts, it's the piano for Beau and dancing for Natalie.
Beautiful writing
I didn't feel like it was a debut novel while I was reading it, because it felt like Emily Henry knew what she was doing. Because of the stories Grandmother was telling Natalie, this book started of as really poetic and Henry managed to keep that up during the entire book. The Love That Split the World was, because of that, a book I wanted to read really slowly to enjoy every word.
Important issues
This book is mostly a contemporary and dealt with a lot of important issues like:
- The danger of drinking
- Finding who you are
- Sexual consent
- Feminism
Because I didn't know it would be mostly contemporary, I had no idea it would talk about all these important subjects, so yay book!
THINGS THAT COULD HAVE BEEN BETTER
The world building
In the beginning, the characters have no clues about what it's going on. Of course, Natalie tries to gather up information during the whole book, which for example leads her to meet Alice. At first, I was eager to discover information along with Natalie, but at some point, I got tired of it. Of course, we understand glimpses of what is happening, but EVERYTHING is revealed at the end in ONE conversation. The explanation felt realistic enough but I didn't care anymore, because it took too long to come.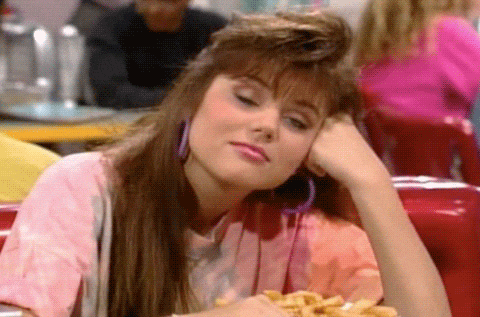 The pacing
That was the big issue of this book. It started a little slow, mostly because of my problem is the world-building, and it rushed to finish. Like I said, everything was explained in one conversation and then in the last chapter something big happens and then THE END. It was rather brutal and I didn't like this "pacing".
Overall
, this was a beautiful book I loved to read, but don't expect a lot of time travel, no matter what this book is shelved on Goodreads. It dealt with important issues and made me cry so hard. I still had issues with the pacing, but it was minor, because I still kept reading until the last page.
Have you read this book or are you planning to do it? What do you think of the cover? Do you have time travel books to recommend?