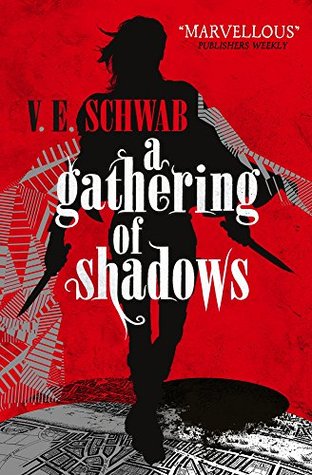 A Gathering of Shadows (Shades of Magic #2) by V.E. Schwab
Published: February 23rd 2016 by Titan Books
Genre: Fantasy
Goodreads summary:
Four months have passed since the shadow stone fell into Kell's possession. Four months since his path crossed with Delilah Bard. Four months since Rhy was wounded and the Dane twins fell, and the stone was cast with Holland's dying body through the rift, and into Black London.
In many ways, things have almost returned to normal, though Rhy is more sober, and Kell is now plagued by his guilt. Restless, and having given up smuggling, Kell is visited by dreams of ominous magical events, waking only to think of Lila, who disappeared from the docks like she always meant to do. As Red London finalizes preparations for the Element Games—an extravagant international competition of magic, meant to entertain and keep healthy the ties between neighboring countries—a certain pirate ship draws closer, carrying old friends back into port.
But while Red London is caught up in the pageantry and thrills of the Games, another London is coming back to life, and those who were thought to be forever gone have returned. After all, a shadow that was gone in the night reappears in the morning, and so it seems Black London has risen again—meaning that another London must fall.
I actually reread A Darker Shade of Magic at the beginning of February to remember everything that had happened, but I don't think it's necessary to get into A Gathering of Shadows, because the main plot line deals directly with what happened at the end of the first book. By the way, it's the first book I've reread in two years, but it's so awesome than there isn't any surprise here.
I found this novel's structure to be quite different from the first one, because we don't really see a lot of traveling between the Londons, Kell travelled three times or something. Nevertheless, Schwab expanded her world, even though we mainly stayed in London. Because of the tournament plot line, we got to see characters from the three different empires, which was really interesting. Moreover, at the beginning of the book, Lila is on a ship (which I love, as you know ;) ), which allowed the reader to discover more of the world.
This book was all about a tournament organized by Rhy, which translated as The Elements Game. I loved to read about it. However, I found that the actual tournament came pretty late into the story, because it was all everyone talked about during the whole book and it only started during the eight part on the book, when there were ten parts. But it's the only little complain I have about the plot, because Schwab still managed to keep it interesting, since there also was the main plot lines to deal with, and the characters' development.
The characters were
fabulous
in this book, just like they were in the first one. I think they were even more fabulous because I grew so attached to them and this book involved a lot of feels. And guys, you'll love Alucard Emery, a new character, whom is so interesting and powerful. This character has so much potential, I'm pretty sure we only started to see it in this one. I found the characters development's to be on point, because it was realistic with what happened at the end of the first book, especially for Rhy and Kell. During the span of four month between ADSOM and AGOS, Lila also changed a lot, because she adapted to a new world and did what she had always wanted to do. The first part of the book focused on her and it gripped me from the beginning, because it was so intriguing. Also, I've had her song stuck in my head for a few days, so thanks, Schwab ;) But anyway, I love her so much <3
How do you know when the Sarows is coming?
(Is coming is coming is coming aboard)
Just like in the first book, the romance wasn't the main focus but we saw way more kissing that in the first book. I don't necessarily mean between the main characters, but I'm sure we'll have a lot more in the next book… Even if it isn't really in their personalities. Anyway, the romance was a slow burn and it was worth waiting a good amount of pages before the two main characters finally saw each other again. I want them to see each other again btw, even if they're in a tricky situation at the end of the novel, but still? There also was a really steamy scene featuring two other characters, which I really loved. Like, I need more scenes between them.
NO. I DEMAND.
So many feels were involved with this book, I just can't.
Schwab knows how to manage her endings and this one was no different. It ended on an evil cliff-hanger, which made me so sad I finished the book that fast, since I'll have to wait another year before the sequel is published. But wow. Like wow. The characters are in a
REALLY
tricky situation, I can't wait to see what happens next. Oh, and Lila? I'm sure it will be enough, don't worry ;)
Overall, this was an amazing sequel to an amazing first book, but who is surprised here? Victoria Schwab is such an amazing writer, I expected no less (but no pressure :D). This book was gripping from cover to cover, I loved every word of it and am pretty sad it's finished. However: I am not okay. I think I'm drowning into feels because of this book, how am I going to survive a year? It's a good thing a new Schwab's book will be released in June. So for those who haven't read A Darker Shade of Magic, please do it! Buy it, request it from your library, I don't care! Just read it! :)
Have you read A Darker Shade of Magic? Are you finished with A Gathering of Shadows yet? Which of Victoria's books is your favorite?