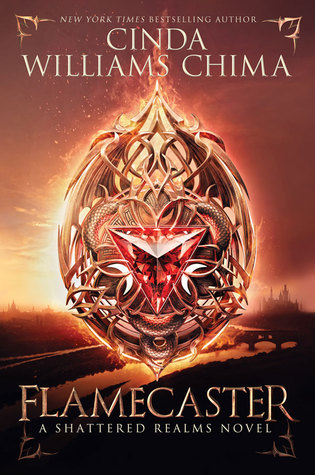 Flamecaster (Shattered Realms #1) by Cinda Williams Chima
Published: April 5th 2016 by HarperCollins
Genre: young adult, fantasy
Goodreads summary: The first in a thrilling new four-book fantasy series from New York Times bestselling author Cinda Williams Chima, set in the same world as her beloved Seven Realms series, a generation later.
Adrian sul'Han, known as Ash, is a trained healer with a powerful gift of magic—and a thirst for revenge. Ash is forced into hiding after a series of murders throws the queendom into chaos. Now Ash is closer than he's ever been to killing the man responsible, the cruel king of Arden. As a healer, can Ash use his powers not to save a life but to take it?
Abandoned at birth, Jenna Bandelow was told that the mysterious magemark on the back of her neck would make her a target. But when the King's Guard launches a relentless search for a girl with a mark like hers, Jenna assumes that it has more to do with her role as a saboteur than any birth-based curse. Though Jenna doesn't know why she's being hunted, she knows that she can't get caught.
Eventually, Ash's and Jenna's paths will collide in Arden. Thrown together by chance and joined by their hatred of the king, they will come to rescue each other in ways they cannot yet imagine.
Set in the world of the acclaimed Seven Realms series a generation later, this is a thrilling story of dark magic, chilling threats, and two unforgettable characters walking a knife-sharp line between life and death.
REVIEW
I read the Seven Realms series a year and a half ago and I found it amazing, so I was really excited for this one – I added it on Goodreads November 1st 2014 – which says a lot. When I got it in the mail, I hurried to finish the book I was currently reading, then jumped on it quickly. Long story short: if you're a fantasy fan, read this one!
I loved getting back into the world, because it felt familiar (the first chapters were set in the Fells) and yet like a new world, because the characters visited new places and it was set more or less twenty years later. The world felt realistic, because when we left the characters in The Crimson Crown, the situation wasn't entirely stable, and it still wasn't the case two decades later. It was still a world at war, more than ever, hence the title of the series, Shattered Realms. Cinda Williams Chima didn't stay long in the places the reader already knew, like the Fells or Oden's Ford, which was fine by me, because I discovered the kingdom of Arden and heard of the Northern Islands (which was so mysterious and exciting).
In the world-building, some little details bothered me, like the facts the months were the same as ours, when it's a high fantasy one, and the use of French by the author, with a typo (La Ancienne instead of L'Ancienne) when I don't even understand how the characters could know French… I guess it was used for a different society, but still.
Plot-wise, the author chose to do temporal ellipses, which I wasn't a huge fan of. If I found it more realistic, it confused me a lot, because the author just mentioned time had passed in a sentence. Still, it allowed her to write backstory to the characters, which was quite relevant to the rest of the story, but heart-breaking in both cases. This book contained multiple points of view but mostly Adrian's. While I liked his arc a lot and I know that we will get more of Jenna's in the next book, I'm wondering why the author chose to call this book 'Flamecaster', because it's relevant to Jenna, not Adrian, but oh well.
The story moved fast enough for my taste, but yes, it was a big book. I was pleasantly surprised when the author included healers, but also pirates and (highlight for the spoiler)
dragons
. Some of the twists were quite unexpected, which made me love the book even more. I guessed one of the big ones early on though, but I think it's only the second time I read this twist (and it was in French YA fiction, so…). The ending of the book made me so eager for the next one, even though it didn't end on a cliff-hanger. I'm looking forward to see what's going on in the Fells, but also in the Northern Islands (who is this Empress Celestine?).
I found the characters to be one of the best parts of the story, I loved them so much. Like I mentioned, the author started the story when they were twelve or thirteen, to tell traumatizing events that shaped them. Because of that, I felt a deep connection to them very quickly.
Adrian
felt like a perfect mix of his parents, I loved it. If he was a mage, he was also a healer, an aspect of his arc I really enjoyed. I was a little confused by how he changed just by meeting Jenna though. I hope I'll get to see him with his family soon, because I'm excited to see their dynamics. Jenna was such an interesting character, we didn't get a lot of her point of view, but her arc is totally set up for the next book. I had guessed what was going on with her but I don't care, it was still pretty awesome! Jenna was a resourceful girl, but we didn't get to see it much in the second part of the book because of the situation she was in, but I'm sure we will see that aspect of her more in the sequel.

When I read a character was named Lila I immediately thought of the awesomeness that was Lila Bard in A Darker Shade of Magic and this one was also amazing. And a smuggler. And a person of colour so finally some fantasy authors are trying to include diverse characters in this genre. Finally, Destin and Evan were mysterious and ambivalent, I really want to have more backstory about them (especially after the epilogue).
As you can say, I'm pretty enthusiastic about these characters because I found them fleshed out and relatable. But, I had a problem with… The romance. I'm sorry, but it was just a big case instalove. The main characters met and by the end of the chapter (or the next one), they just wanted to be together and do everything for the other. I'm sorry, but no. I'm so sad about this instalove, you guys, because in Seven Realms, the relationship between the main characters wasn't instalove-y at all.
Overall
, it was a fantastic first book in Cinda Williams Chima's new series, with amazing characters and an expanded world. Since it's a spin-off series, I think you can start with this one, but you'll be spoiled for the ending of Seven Realms and I'm not sure you'll have enough world-building to start one. The only thing that bothered me was the instalove, but the rest of the books was so great that it makes it a 4.5 stars book.
Did you read the Seven Realms series? Were you a fan of it? Have you read Flamecaster yet? Do you want to?