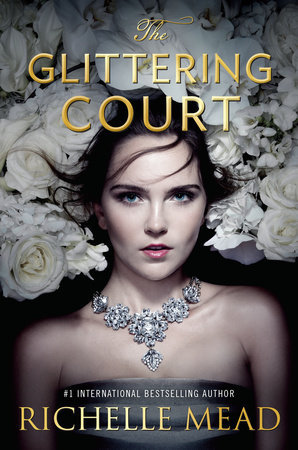 The Glittering Court (The Glittering Court #1) by Richelle Mead
Published: April 5th 2016 by Razorbill
Genre: young adult, alternate history (?)
Goodreads summary:
Big and sweeping, spanning from the refined palaces of Osfrid to the gold dust and untamed forests of Adoria,
The Glittering Court
tells the story of Adelaide, an Osfridian countess who poses as her servant to escape an arranged marriage and start a new life in Adoria, the New World. But to do that, she must join the Glittering Court.
Both a school and a business venture, the Glittering Court is designed to transform impoverished girls into upper-class ladies who appear destined for powerful and wealthy marriages in the New World. Adelaide naturally excels in her training, and even makes a few friends: the fiery former laundress Tamsin and the beautiful Sirminican refugee Mira. She manages to keep her true identity hidden from all but one: the intriguing Cedric Thorn, son of the wealthy proprietor of the Glittering Court.
When Adelaide discovers that Cedric is hiding a dangerous secret of his own, together they hatch a scheme to make the best of Adelaide's deception. Complications soon arise—first as they cross the treacherous seas from Osfrid to Adoria, and then when Adelaide catches the attention of a powerful governor.
But no complication will prove quite as daunting as the potent attraction simmering between Adelaide and Cedric. An attraction that, if acted on, would scandalize the Glittering Court and make them both outcasts in wild, vastly uncharted lands…
The ratings are already getting downhill for this one, but it was much better than Soundless, Mead's previous novel, in my opinion. Still, I think this one is misleading, because some people went into it thinking it was fantasy, but it's not. It would be closer to a historical novel, but it's not quite this either.
The concept of this book is similar to The Selection, because it's about educating young women to send them to the New World in order to marry wealthy men. Of course, it focused on fashion and manners, which I really liked. While I was hooked straight away because of the concept, I didn't understand why a girl escaping an arranged marriage would go to the Glittering Court, where she would have an arranged marriage. I understand that she thought she didn't have another choice, but it still felt odd and the book was built upon it. So of course, I wasn't surprised when she didn't want to marry. Nevertheless, I really liked Adelaide's story and Mead managed to write a good standalone, evenly paced and that didn't bore me. She also gave enough hints about the other characters –this will be a companion series- that I'm excited to read Tamsin's and Mira's sides of the story.
This world had weak world-building. Because I knew it was inspired by Elizabethan England, I knew what to expect and what to imagine. Yes, there were some descriptions, but I felt like she could have explained a little more. Sometimes, countries were mentioned and I had no idea what she was talking about. I don't really understand why the author chose to set this book in another world, because it felt almost identical to Elizabethan England. But, I love Elizabethan England, so I considered it was set in it. Yes, I'm cheating. For example, there were religious conflicts, Natives being chased from their land and so on.
I enjoyed being in Adelaide's head in this novel. She was a regular nobility character but I thought she was brave, because she chose to go in a foreign land in order to escape her land. She was strong-tempered and stood up for her loved ones. Tamsin and Mira were different from her, but I have to say I loved them all. Moreover, I didn't expect them to have such a strong friendship, because it was about finding husbands and I thought they would be mean to each other all the time. Cedric was compelling love interest and he had chemistry with Adelaide from the beginning –yes Mead did it again! I liked reading about their love story and I was rooting for them. All the characters had secrets and I'm getting crazy because we don't know all of them yet. But, I found it disappointing that the main character got to know what it was about and it was a blank in the narration.
Plot-wise, I found that so many things happened, but sometimes it was too much... I felt like I read two novels instead of one! It was a rich story and Mead never stopped too long on each part –the education in the manors wasn't a really big part of the story- which I didn't really expect. There were many subplot points and this book went into surprising directions. Moreover, at some point, a character was almost rapped and it literally made no sense. Yes, it's an important issue but I felt it was just used as a plot tool. It wrapped up pretty nicely though, but it was also a new beginning for Adelaide, and I really hope we'll see glimpses of her future in the next books.
Overall
, it wasn't Vampire Academy or Bloodlines, because it wasn't a fantasy book, but I still liked it. I don't know if this book is for everyone, but it goes much farther than the arranged marriage aspect. I read this book quickly because it was gripping but the world-building was meh. Still, the main characters were strong-minded and I can't even say which one I liked the more. Adelaide's story wrapped up nicely, but I'm eager to read more. Typically, this is a case where I'm conflicted on the rating...
Do you love Richelle Mead's books? Have you read this one yet? Do you plan to?