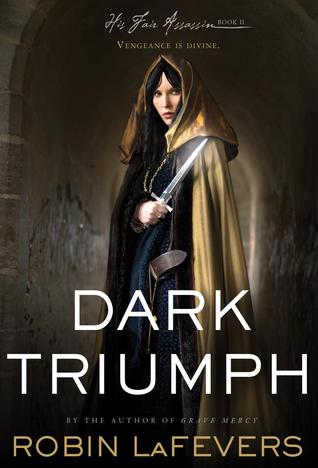 Dark Triumph (His Fair Assassin #2) by Robin LaFevers
Published: April 2nd 2013 by Houghton Mifflin Books for Children
Genre: young adult, historical, fantasy
Goodreads summary:
When Sybella arrived at the doorstep of St Mortain half mad with grief and despair the convent were only too happy to offer her refuge - but at a price. The sisters of this convent serve Death, and with Sybella naturally skilled in both the arts of death and seduction, she could become one of their most dangerous weapons.
But her assassin's skills are little comfort when the convent returns her to the life that nearly drove her mad. Her father's rage and brutality are terrifying, and her brother's love is equally monstrous. But when Sybella discovers an unexpected ally she discovers that a daughter of Death may find something other than vengeance to live for...
REVIEW
Like the author said in her note, this story was more personal than political, which I totally felt while reading, but I still love both books equally. Indeed, the spirit of the story stayed the same, because at first, Sybella was on an assignment, but then it became much more than that. If I was thrown away into the world right again, I found it to be slower to pick up.
I really liked learning about Sybella's backstory, even though it was so awful, because I really got to know her. Still, it was a situation that felt realistic for this era. But I couldn't really connect with her, with all the masks she put on her face, she felt like an actress most of the time, it was more towards the end of the book that I really cared about her. I enjoyed her relationship with Beast, I found that it grew naturally and I actually shipped them, they were quite alike.
Plot-wise, Dark Triumph went farther into the timeline, I thought it would follow the same one than in Grave Mercy, so I was quite pleased by that. The plot was thrilling and I really enjoyed following it, it also expanded the world a bit, because the characters went to different cities, the author also included the charbonnerie and other convents like Saint Mer. The characters felt closer to the people, while in Grave Mercy, they were closer to the court.
Other:
Scent of Magic (Healer #2) by Maria V. Snyder
Published: December 20th 2012 by MIRA
Genre: fantasy
Goodreads summary: The army of the dead are coming…
Avry of Kazan, the last Healer of the mystical Fifteen Realms, has a power that can't be matched. But in the minds of her friends and foe alike, Avry no longer exists. Now, as the psychotic King Tohon builds an army mightier than any that has been seen before—a league of undead soldiers—Avry must face her toughest, most terrifying battle alone. Fighting to be reunited with her family and her lover Kerrick, Avry must infiltrate Tohon's troops. But does she have the power, the rare magic; to do what legend says is impossible?
REVIEW
Sadly, I didn't like Scent of Magic as much as Touch of Power, I had a hard time getting through it and had to push myself to read it. In this one, the author chose to have two points of view, which made sense because the characters were separated, but I wasn't really looking forward to read his chapters, they quite bored me. Moreover, Avry's point of view was written in first person and Kerrick's in third person, which always threw me off. Still, I liked the development about the healers.
I found the plot to be slow-moving, because for two thirds of the book, the characters were just preparing for war. I wasn't at the edge of my seat, but there were some twists I didn't expect, that still made me happy. I was surprised by the ending, though, so that's a good thing.
I really liked the secondary characters introduced in Scent of Magic, especially the ones from the camp, because some characters we met in the first one weren't there, it was refreshing. I really, really didn't like Tohon, just like in the first one, but it's not really a surprise. Some of his actions were childish, for example he just wants to own Avry to piss Kerrick. Moreover, it was a good thing that Avry and Kerrick were separated during the whole book, because it kind of 'stopped' the romance for a while, which meant no drama (for once). I hope I'll like the third book more than this one.
Other:
Have you read any of these books/series? What did you think of them? Would YOU be an assassin or a healer?