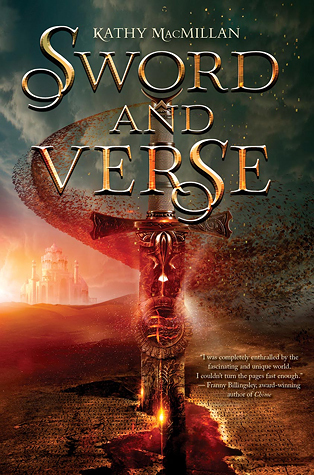 Sword and Verse (Sword and Verse #1) by Kathy MacMillan
Published: January 19th 2016 by HarperTeen
Genre: YA high fantasy
Goodreads summary:
Raisa was only a child when she was kidnapped and enslaved in Qilara. Forced to serve in the palace of the King, she's endured hunger, abuse, and the harrowing fear of discovery. Everyone knows that Raisa is Arnath, but not that she is a Learned One, a part of an Arnath group educated in higher order symbols. In Qilara, this language is so fiercely protected that only the King, the Prince, and Tutors are allowed to know it. So when the current Tutor-in-training is executed for sharing the guarded language with slaves and Raisa is chosen to replace her, Raisa knows that, although she may have a privileged position among slaves, any slipup could mean death.
That would be challenging enough, but training alongside Prince Mati could be her real undoing. And when a romance blossoms between them, she's suddenly filled with a dangerous hope for something she never before thought possible: more. Then she's approached by the Resistance—an underground army of slaves—to help liberate the Arnath people. Joining the Resistance could mean freeing her people…but she'd also be aiding in the war against her beloved, an honorable man she knows wants to help the slaves.
Working against the one she loves—and a palace full of deadly political renegades—has some heady consequences. As Raisa struggles with what's right, she unwittingly uncovers a secret that the Qilarites have long since buried…one that, unlocked, could bring the current world order to its knees.
And Raisa is the one holding the key.
I have super mixed feelings about this one. The two halves of the book are totally different, it's insane. I was tempted to DNF it, to be honest, but I was anticipating it so I really want to give it a chance... And it got better. It was actually an addicting read, because I read it in a few sittings, but that doesn't mean it was a great read.
Things that I did not like
- The first half of the book almost only focus on the romance. But well, I only felt like the plot was based upon the romance, so

NO

.
- The fact that there are huge time gaps bothered me. You'll tell me that it's more realistic that nothing happens for months, and I agree, but the transitions weren't done well enough for me. It totally threw me off than we started when Raisa was fourteen and in the end she was eighteen, or so. For example, I'd have liked to see her Selection, it would have been interesting.
- The characters felt a bit flat to me. We didn't even really get to see how Raisa and Mati felt in love... Or it was just insta-love? I don't know… I felt like they were the only important characters in the story, and I wasn't even able to relate to them. The secondary characters were there, but we didn't get to see them a lot, except maybe Jonis, but that's all.
- Where was the character development? Raisa felt the same from beginning to end.
- It was totally infodump-y. In the beginning, I got an headache because too much information at once, it was hard to process.
- MacMillan was able to create a rich world that I was really interested in. I loved how religion was important here, and that we got to see the mythology at the beginning of each chapter (even if sometimes, I just didn't care).
- The ending was

amazing

. I wasn't expecting anything at this point but it was actually fast-paced and I couldn't wait to see what was going to happen. I was impressed by this ending, but it felt a bit rushed and I wanted this book to be more like that.
- This book is a fantasy standalone, which is pretty rare, but in this case it works, because of the way it ended. I read somewhere that the author was working on a companion book, which told the story from another character's perspective. If it's Jonis, it could be interesting, but if it's Mati, I don't see the point, at all.
-It didn't involve a love triangle, for once. The plot was romance-driven anyway, so it would have been useless.
- Finally, the idea behind this book is so important.

Never forget that knowledge is power
Overall

, I found that the first half of the book was completely different from the second, and I was so relieved, because it's one of the reasons I finished the book. I wasn't a big fan of the romance, especially since it was the focus of the first half of the book, which underwhelmed me. The characters felt a bit flat and didn't go through a lot of development, sadly. It was set in an interesting world though, I was actually fascinated by it. Moreover, the ending totally redeemed the book and it was worth it to read until the last page.
Were you excited about this book? Have you read it yet? Did you think we got too much romance?