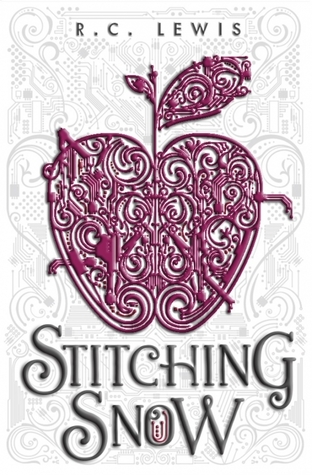 Stitching Snow by R.C. Lewis
Published: October 14th 2014 by Disney-Hyperion
Genre: YA Sci-Fi Fairy Tale Retelling
Goodreads summary:
Princess Snow is missing.
Her home planet is filled with violence and corruption at the hands of King Matthias and his wife as they attempt to punish her captors. The king will stop at nothing to get his beloved daughter back—but that's assuming she wants to return at all.
Essie has grown used to being cold. Temperatures on the planet Thanda are always sub-zero, and she fills her days with coding and repairs for the seven loyal drones that run the local mines.
When a mysterious young man named Dane crash-lands near her home, Essie agrees to help the pilot repair his ship. But soon she realizes that Dane's arrival was far from accidental, and she's pulled into the heart of a war she's risked everything to avoid. With the galaxy's future—and her own—in jeopardy, Essie must choose who to trust in a fiery fight for survival.


REVIEW
Th
e question everyone is asking about this book is: Is it similar to the Lunar Chronicles? Honestly, it didn't feel like it, even though a lot of people said it. Sure, you can see little similarities here or there, because they're both Sci-Fi Fairy Tale Retelling. The story is based upon the classic trope : "missing princess comes back to reclaim her throne", but I really enjoyed the way it was done, because Essie didn't exactly come back willingly at first, she grows used to the idea of being Windsong's queen, that's all.
Essie was an amazing main character. The first scene of the book shows her fighting miners in a cage, she was pretty tough. She lives on Thanda, a cold planet where there are mostly miners. The area she lives in is only composed of men, but that doesn't stop her from refusing all of them and being an independent woman. She doesn't have a perfect life, but she manages with her seven drones - which were obviously the dwarves. Dimwit, the silly one, was my favourite, he was so funny. Back to Essie, she was an anti-trope character, from her real name (Snowflake) to the fact that she dyed her hair red (which is the typical heroine hair colour) to hide what her real hair looks like. She had a really interesting development during this book, because she started as a character who just wanted to hide, to a taken one, to a rebel, to a queen.
Essie's life starts to change when Dane crashes in a shuttle near her home. She helps him to fix it, even if I wondered why she really did, since she's the kind of character that doesn't trust a soul (and is right). From that starts a crazy spaceship's ride on three different planets. I enjoyed reading about all of them, but I could have done with a little more detailed, actually. Something I really enjoyed about this world was the Exiled arc of the story, because they more or less had the ability to go into other people's bodies. It was really interesting to read about, but I wished we had seen more of it and it would have been explained. Overall, I don't know why they were different from the others: are they aliens? Or was it just special abilities? I wish I knew.
The romance was enjoyable and wasn't instalove-y at all. Even if this book is a standalone, there really is development in the relationship between Essie and Dane. At first, she doesn't know what to do with his friendship, because she wasn't sure she could trust him. It was pretty obvious he liked her, but she wasn't used to that kind of thing, it was so adorable!
The fairy tale retelling was nicely done, with a queen who works with poisons, an unsure king who was actually the villain, a different kissing scene that what would be expected. Dane even has SEVEN freckles, I found it really funny!
The plot was simple but really enjoyable to read about, I wasn't bored a single moment. It's not perfect since I would have liked a little more motives for the "villains", I couldn't really understand them and they were one dimensional, I'm disappointed in that aspect. It was nice to have a last chapter that could be an epilogue, a "what happens next", even if it was set in the near future for the characters.
This book was an eventful and evenly paced read, I was really happy about it since it's a standalone. It was a very pleasing one and I'm looking forward to read Spinning Starlight, even though it's not set in the same universe.
Overall, this book was a quick read that definitely entertained me even if I wasn't blown away with what happened, since it was a classic plot. I really enjoyed the characters, the romance and the fairy tale retelling aspect of the story, but I could have done with a little more world building - even if I understand it was hard to do since it was only a standalone.
Have you read this book? What did you think of it? Have you picked up the companion, Spinning Starlight, yet?