I'm starting a new feature on the blog, because it's the New Year so it'll be the perfect time for it! I'll be doing monthly posts featuring all the books I'm excited for in the upcoming month. Obviously, this is the first edition of this feature, Grabby Hands, it will be dedicated to January releases! I know
I'm a little late for January, but better now than never, right?
Published January 5th
Passenger by Alexandra Bracken : A time traveling adventure, of course I want it! Apparently there is a slow-burn romance and I really enjoy that. Alexandra Bracken is one of my favourite authors anyway :)
The Impostor Queen by Sarah Fine : Early reviews praised this book. It's an high fantasy with a main character who was supposed to be queen... But when the magic has to enter her, it doesn't... So she has to flee... It sounds amazing!
Thief of Lies by Brenda Drake : Well, I just need to know it involves libraries and I'm sold.
Worlds of Ink and Shadow by Lena Coakley : The main characters are the Brontë siblings, how cool is that? I can't wait to read about them because I love them so, so, so much.
Truthwitch by Susan Dennard : Something Strange and Deadly came as a huge surprise last year, I marathoned the trilogy in five days while I had classes. It's a high fantasy involving witches! It's super hyped up, which is great, but it makes me feel like I should wait a little before reading it, even if I'll love it.
Curio by Evangeline Denmark : It's fantasy and steampunk, wow I want! And it involves Chemists, it should be really cool!
Firsts by Laurie Elizabeth Flynn : It's a contemporary and I'm not the biggest fan of those, as you may now, but I'm excited for this one because the premise sounds so interesting! I wanna read about those moral issues.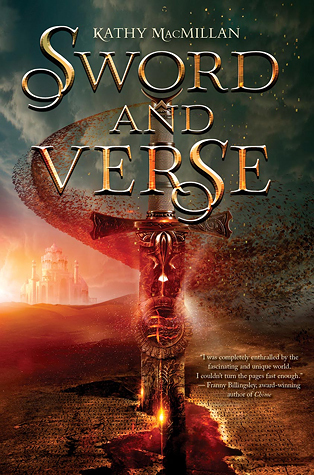 Sword and Verse by Kathy MacMillan : It's an high fantasy and the premise reminded me a lot of An Ember in the Ashes, so I'm excited, but I heard it had instalove, ugh. The main character's name is Raisa, like in the Seven Realms so she can't do wrong, can she?
The Dark Days Club by Alison Goodman : This is one of my most anticipated reads of the year. It is set during the Regency and involves demons that want to take over society. It has such a similar vibe to The Infernal Devices that I can't help but want it!
The Love That Split the World by Emily Henry : First, the cover is gorgeous and it should be enough to want the book. It involves time traveling I think but the synopsis is pretty vague...
The Prophecy of Shadows by Michelle Madow : It is a typical paranormal romance with witches, those we used to read so many years ago but... I still hope it could be good? I like the cover, we'll see how it is but it could be great?
Which book(s) are you excited for in January?