I started a new feature at the beginning of the year, where I talk about all the books I'm excited for each month. I'm doing this at the end/beginning of the month (at least I'm trying). Let's talk about all the new releases I'm excited to read that are published in February.
Stars Above by Marissa Meyer : The Lunar Chronicles are one of my favourite series of all time. When I heard there would be a bind-up of the novellas and it would have the epilogue, I was beyond excitement. Also, this cover is gorgeous, like the others.
Assassin's Heart by Sarah Ahiers : It's a debut novel with families of assassins, it sounds pretty cool. I'm sure it will be all about revenge, forbidden romance and epicness, I'm so pumped about that!
Unhooked by Lisa Maxwell : I remembered adding this book on Goodreads when it had a different title and cover, The Stars Turned Away, so it seems to be forever ago. This book is set in Neverland, which seems to be a dark place, and it involves different characters, I'm totally curious to see the way Neverland will be. I was disappointed by Never Never, also set in Neverland, when I read it last year, I hope it won't be the case this time.
Starflight by Melissa Landers : I didn't like Melissa Landers' debut novel, because I found it typical and really cheesy. But, most of the time, I gave author another chance in a different series. This book is a sci-fi one, set in space. I think because I loved The Lunar Chronicles and the Starbound trilogy, I could really enjoy it. Moreover, the romance is apparently cute, it could work!
Revenge and the Wild by Michelle Modesto : This debut novel is set in the Far West and features fantasy and steampunk elements, which means I'll probably love it. The main character must be very tough, because of the society, but also the fact she lost an arm and has a mecanical one. I loved the western novels I read in 2015, it's an interesting trend that has been developing lately, I can't wait to read this one.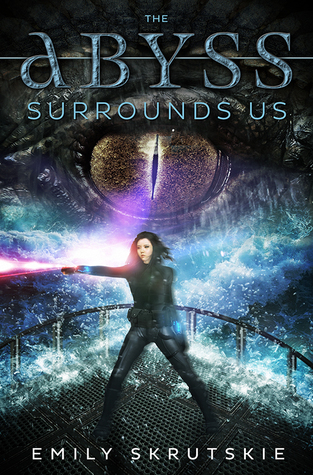 The Abyss Surrounds Us by Emily Skutskie : It's a debut novel (umm, are you surprised?) with sea monsters. It's something I've almost never seen (except in Twenty Thousand Leagues Under the Sea but that's all), I'm fascinated and scared at the same time, tbh. That eye one the cover freaks me out. Moreover, there are pirates!!!!!
Glass Sword by Victoria Aveyard : Like a lot of readers, I had mixed feelings about Red Queen, because of the similarties to a lot of other books, but at the same time, I liked the story and how it ended. I will be reading Glass Sword, because apparently, it's better than the first one.
Blackhearts by Nicole Castroman : This debut novel is the prequel story to Blackbeard, the frightening pirate. It is also a love story I think, and choices we make when we're coming of age. Because it involves pirates, I'm totally sold.
Reign of Shadows by Sophie Jordan : This is a high fantasy, but also a retelling of Rapunzel, and I looove that fairy tale (even if it doesn't really end well, errr, but it's still great). I didn't like Jordan's Uninvited, but this one sounds promising. It seems to be set in a world dark, where evil reigns. So yes, I'm excited.
These Vicious Masks by Tarun Shanker and Kelly Zekas : This book is set in Victorian England, so basically, yes. It is pitched as "Jane Austen meets X-Men". That sounds exciting, I hope it'll live up to that!
Riders by Veronica Rossi : I'm curious about this book, because it involves the horsemen of the apocalypse. It is unique, because I've never heard of a book involving those characters. I'm excited to see how Rossi will portray them. I had really liked her dystopia trilogy, Under the Never Sky, so I have faith.
The Shadow Queen by C.J. Redwine : This book is one of my most anticipated books for 2016. The cover is gorgeous. It's a Snow White retelling, but the main character seems to be more than that, and has magic. The love interest also has its own background, so he could be interesting.
The Girl From Everywhere by Heidi Heilig : This debut novel involves time travel, so basically, yes! Heidi Heilig is an hilarious and sweet person, I can't wait to read her book. Some aspects of it seems a bit confusing, but I'm sure she'll explain it well. I love time travel because we get to see so many places and different eras.
A Gathering of Shadows by V.E. Schwab : A Darker Shade of Magic was one of my favourite books of last year, but actually, I loved every book this author wrote. I'm really excited to get back to this world, it's such an interesting one, and there will be a lot of consequences after what happened in the first book. This book seems to be a lot about Lila Bard, since she's on the cover, who is an aspiring pirate, so basically, yes!
The Forbidden Wish by Jessica Khoury : I read Exquisite Captive this month, I was disappointed by this book, but jinnis intrigued me. I'm eager to read more novels featuring them, and this book could be a start. It's also a retelling of Aladdin, I love that Disney movie so much.