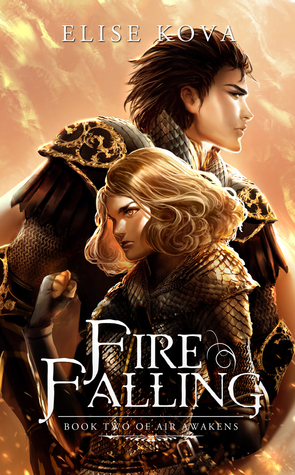 Fire Falling (Air Awakens #1) by Elise Kova
Published: November 19th 2015 by Silver Wing Press
Genre: YA high fantasy
Goodreads summary: Soldier… Sorcerer… Savior… Who is Vhalla Yarl?
Vhalla Yarl marches to war as property of the Solaris Empire. The Emperor counts on her to bring victory, the Senate counts on her death, and the only thing Vhalla can count on is the fight of her life. As she grapples with the ghosts of her past, new challenges in the present threaten to shatter the remnants of her fragile sanity. Will she maintain her humanity? Or will she truly become the Empire's monster?
Fire Falling is the second book in the Air Awakens Series.
REVIEW
I loved the first book, but I was so disappointed with this one.
At the end of the first book, Vhalla was sentenced to fight on the front in the North. So, what should we expect from Fire Falling? Vhalla on the front. Well... That didn't happen. This book was about marching to the front and that's not what I wanted. Yes, there were still some action scenes and interesting development, but until the end I thought we would see the front. <b>We did not</b>. At some point, the Emperor and Aldrik got a plan for Vhalla that was supposed to make them win the war so I thought we would see it in action. <b>We did not</b>. This book was just training, walking, love problems, walking, drinking, walking, OMG we've been attacked! Like, no, just no. Moreover, I felt like the ending was a bit rushed, especially when I read what the cliff-hanger that would break my heart was. Well, who is seriously thinking it's a cliff-hanger? It's the second book, for God's sake.
Just like in the first one, I really enjoyed Vhalla's character and she went through a lot of development in this book. But some aspects of her character bothered me, like the fact she kept saying "I'm property of the crown". Even if I understand how bad her situation is, it was so irritating and made me want to hit her.
The romance was what made me keep reading, because it was a slow burn and I was just wanted to happen, that part was glorious btw. Elise Kova knows how to write a romance, it was addictive. For example, it was a struggle for Vhalla to tell Aldrik she loved him, and I really enjoyed it, because in so many books, it's rushed. But, no matter how much I loved Aldrik and Vhalla together, I felt Vhalla was needing him all the time, when I felt she was an independent and strong woman in the first book. She wasn't as much in this book, even if she had a lot of power, and didn't want to do any war-related thing. Well, if you're property of the crown, just do what the crown says, please *sigh*
In the middle of the book, there were some drama for her relationship with Aldrik and I had seen it coming, it's like the biggest trope of ever but you felt for it Vhalla and you're *so* smart. You could also feel a possible love triangle brewing and it was useless, in my opinion, because who thinks Vhalla will end up with Daniel? I don't.
I expected more from the secondary characters. I enjoyed reading more about Vhalla's guards in the first book, I wasn't expecting it at all and was pleasantly surprised. But I was disappointed for Larel and Fitz... We got a little backstory for Larel, but it mainly felt like the characters were there to serve a purpose... Vhalla.
So yes, sadly this book felt like a transition to the next one, it really bothered me because it's not even a trilogy, there are still three books left, so I don't know what the author will do for the last two books... The plot was boring, I wanted more of the secondary characters, but the world building was great with a swoony-worthy romance... Even if it involved some drama.
To sum it up:
Have you read this series? Do you think it's worth it to continue?