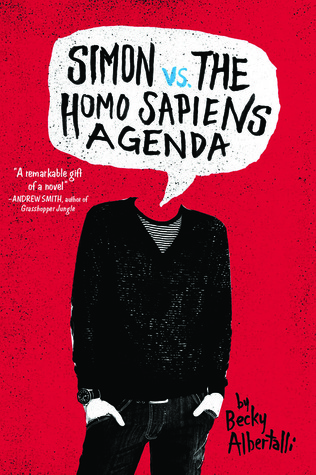 Title: Simon vs. the Homo Sapiens Agenda
Author: Becky Albertalli
Published: April 7th 2015 by Balzer + Bray
Goodreads summary: S

ixteen-year-old and not-so-openly gay Simon Spier prefers to save his drama for the school musical. But when an email falls into the wrong hands, his secret is at risk of being thrust into the spotlight. Now Simon is actually being blackmailed: if he doesn't play wingman for class clown Martin, his sexual identity will become everyone's business. Worse, the privacy of Blue, the pen name of the boy he's been emailing, will be compromised.
With some messy dynamics emerging in his once tight-knit group of friends, and his email correspondence with Blue growing more flirtatious every day, Simon's junior year has suddenly gotten all kinds of complicated. Now, change-averse Simon has to find a way to step out of his comfort zone before he's pushed out—without alienating his friends, compromising himself, or fumbling a shot at happiness with the most confusing, adorable guy he's never met.
REVIEW
As a side note, don't you think everyone should have to come out? Why is straight the default? Everyone should have to declare one way or another, and it should be this big awkward thing whether you're straight, gay, bi, or whatever.
I didn't expect to love this novel as much as I did, because I'm hard to please with contemporaries. I always prefer the cute and coming of age stories, that one was like that. I had a hard time when I started this book because I was in a reading slump, I started it at the middle of August and finished it in September. It was hard to remember who character was who, but after that, I totally enjoyed my time reading this book.
Simon is such a genuine character that us, bookworms, could easily relate to: he likes to have his grammar straight and he loves Harry Potter, like he dresses up as a dementor for Halloween and he's like "You're not my friend anymore" at some girl who doesn't know what that is. Moreover, he likes Oreos, I'm hungry because of that while writing this review.
He has such a supportive family, who loves him the way he is, I really liked that. His friends are also really supportive, and their relationships were realistic, because they had their ups and downs.
I really enjoyed the emails with Blue, and I'm happy because I guessed who it was! Blue and Simon are so, so cute together, it was such an heart warming romance. Moreover, it's more about falling in love with someone by getting to know him without any idea of what that person looks like.
It was a cute romance, of course coming out was hard for Simon because of some events, but I liked the way the author dealt with that subject, in fact, that novel was full of hope.
Did you read this book? What did you think of it? For those who didn't, are you interested?