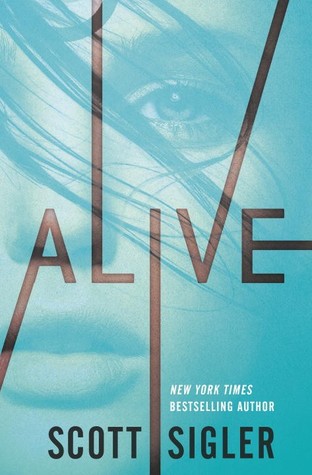 Title: Alive (The Generations Trilogy #1)
Author: Scott Sigler
Published: July 14th 2015 by Del Rey
Goodreads summary: From New York Times bestselling author Scott Sigler comes something utterly new: a gripping sci-fi adventure trilogy in the vein of The Hunger Games, Divergent, and The Maze Runner. A group of young adults awake in a mysterious enclosed space with no knowledge of who they are or how they got there…and an indomitable young woman must lead them not only to answers but to survival.
A young woman awakes trapped in an enclosed space. She has no idea who she is or how she got there. With only her instincts to guide her, she escapes her own confinement—and finds she's not alone. She frees the others in the room and leads them into a corridor filled with the remains of a war long past. The farther these survivors travel, the worse are the horrors they confront. And as they slowly come to understand what this prison is, they realize that the worst and strangest possibilities they could have imagined don't even come close to the truth.
REVIEW
The premise of this novel was really intriguing and there was so much promotion for this book on BookTube (with the spear on book hauls and everything) that I really wanted to read this book. It seemed to contain everything I liked. But then, it went wrong. The beginning was really abrupt, with short sentences and it made me totally hooked on this story. It is always a good way to start a novel, but when it goes on during the whole story, it gets annoying. A LOT.
Our main character wakes up in a coffin without knowing anything -even her name- except it's her 12th birthday. However, she's in the body of a 20 years old woman. She rambles a lot about everyone is beautiful. It was really boring. They all have strange symbols on their forehead, but I'm not even sure we know why. Maybe it was explained and I missed out, but it doesn't really matter. This main character is a total snowflake, she became leader for no apparent reason.
"I answer him in a whisper. 'But why? Why do they follow me? I have no idea what I'm doing.' He shrugs. 'Because there's something about you.'"
I thought the mystery was really intriguing and at first, all I wanted was answers. Then, I got bored 65% in and almost didn't finish this book (in fact, that's the point where you start getting answers). The issue was the characters didn't do anything except walking. At some point, I decided to skip a part and the chapter started by "We run downhill", then I went back and it was "We walk uphill". It upset me so much, I wanted much more to happen.
I was really disappointed by the ending, because it was similar to books I read last year and the execution was better than this one. I totally see where it will lead to in the second book and I'm really not interested. To be honest I'm disappointed. Moreover, there might be a love triangle in the next books. Personally, I don't care, because I won't be there to see it.