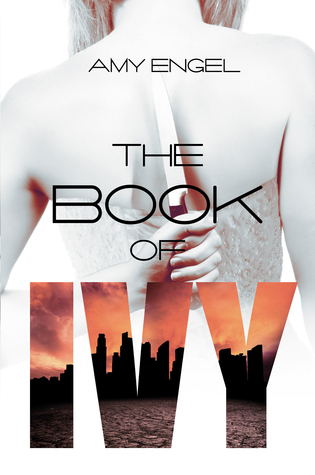 Title: The Book of Ivy (The Book of Ivy #1)
Author: Amy Engel
Published: November 4th 2014 by Entangled: Teen
Goodreads summary:
After a brutal nuclear war, the United States was left decimated. A small group of survivors eventually banded together, but only after more conflict over which family would govern the new nation. The Westfalls lost. Fifty years later, peace and control are maintained by marrying the daughters of the losing side to the sons of the winning group in a yearly ritual.
This year, it is my turn.
My name is Ivy Westfall, and my mission is simple: to kill the president's son—my soon-to-be husband—and restore the Westfall family to power.
But Bishop Lattimer is either a very skilled actor or he's not the cruel, heartless boy my family warned me to expect. He might even be the one person in this world who truly understands me. But there is no escape from my fate. I am the only one who can restore the Westfall legacy.
Because Bishop
must
die. And I must be the one to kill him…
REVIEW
I really enjoyed this book. Amy Engel was able to create a strong world, I honestly think we know everything that's important about it, without info dump. Of course, there are a lot of elements that you can find in so many other dystopias, starting with the fact that Westfall is a close city, just like Chicago in Divergent or Portland (I think it was this one?) in Delirium, that going outside isn't possible, except for those who are to be punished.
Storywise, there wasn't a lot going on, but it was expected because of Ivy's mission, it was more about day to day action, but there was a lot of psychological and ideological development. Indeed, that's something I enjoyed a lot: all her life, Ivy's family makes her
learn and believe certain things, but when she's married to Bishop, she starts to question everything, that was so interesting. However, I know the next book will be more action-packed, because of the ending.

I really enjoyed the characters and the romance. The romance was slowly built throughout the book, it didn't feel to pushed. The characters made me feel so many things and my heart is aching for them because of what happened. We didn't meet a lot of characters though, it was just their families, a co-worker and some neighbours. I hope new characters will be introduced in the next one.

The Book of Ivy was a great dystopia, even if I found it to be a little predictable, but I might think that because I read so many novels in that genre. It ended abruptly and I'm really looking forward to read the second book, even if I'll be probably really sad because of the romance.